From Tesla to Samsung, Apple to Google, the world is gradually embracing the possibility of an eco-friendly environment. Running an Eco friendly salon isn't just a trend; it is gradually becoming a reality. According to the Green Circle Salons organization, over 84% of clients care about the impact salons can have on the environment. This makes going green a responsibility for salon owners. In this short guide, you can learn why going green is important and how you can operate an Eco-friendly beauty salon.
Why Choose the Eco-Friendly Salon
Do you care about your environment? Then, being an Eco friendly salon owner shouldn't be a problem for you. There is a common misconception that becoming more environmentally friendly is costly and difficult. No! On the contrary, it is inexpensive, safe, and easy to implement. In fact, there are numerous ways to turn your salon into an Eco friendly beauty salon. It starts with purchasing Eco friendly salon equipment such as Eco friendly salon furniture, etc. No doubt, going green is good for your business and you'll learn why you should embrace this development.
1.
Save our environment
Going green comes with a ton of benefits, but none is so rewarding as saving a dying planet. You read/listen to the news – how sea animals die, how the ocean is rising due to ice melting, and so on. Improper waste management is a major causative agent of environmental pollution. Thanks to companies like Sustainable Salons, managing salon waste is plausible. Through this program, 95% of waste is recycled in an environmentally-friendly manner. Salon wastes such as chemicals, plastic, paper, foils, color tubes, and other items that are harmful to our environment are disposed of responsibly.
2.
Save money
Switching to sustainable products is a great way to save money. Many salon owners have the notion that Eco friendly hair salon products are expensive. On the contrary, they will help you save money in the long run. Consider sustainable products that are designed to consume fewer amounts of energy; such products will not only save you money but also the environment. What's more, Eco friendly salon products are more popular than ever, meaning they will attract more customers.
3.
Reputation
In case you don't know, many of your customers care about your business's impact on the environment. And, that includes your salon. A great way to retain your brand reputation is to provide top-notch customer service. Making your salon more sustainable ensures your customers feel good about your business. You will likely attract customers from unsustainable salons. I call this a win-win-win situation for your business, clients, and environment.
How to Create the Eco-Friendly Salon
Now that you know the benefits of making your salon environmentally friendly, how can you create one? In this section, I will highlight ten actionable tips to create an Eco friendly beauty salon. 
NB: Every salon is unique. Hence, you may need to adapt an eco-friendly strategy that will suit your business and clients.
The first step is obvious – to switch to Eco-friendly salon equipment. Take a quick tour of your store and find out what kind of products you have presently? Are they environmentally friendly? If not, take a more eco-friendly approach by stocking products that are eco-conscious, anti-cruelty, and recyclable. Removing toxic and harmful chemical salon products and switching to Eco-friendly salon equipment can attract clients and also help your salon increase sales. The use of Eco-friendly salon products such as Eco –friendly disposable towels, aprons, apparel can help your salon reduce the energy consumption required to wash towels, aprons, apparel.
2.
Water management
Want to save your environment? Then, consider switching to eco-friendly salon shower heads with durability, long-lasting usage, and can use up to 65% less water and energy when rinsing a client's hair. If you want to impress your clients you can choose such equipment.
3.
Use Eco-friendly paints and salon décor
Do you know you can apply eco-friendly paints to your salon walls the next time you want to renovate your salon décor? Environmentally-friendly paints are free of VOL [Volatile Organic Compounds] – a toxic chemical that is known to release toxic gas into the air over time. Besides your wall painting, you can also make use of eco-friendly decorations. They should look neat and beautiful, and should match your furniture. Eco-friendly artworks can also be incorporated to completely wow your customers.
4.
Recycling salon wastes
Offering professional barbing service shouldn't be the end of the story. The true beauty lies in your ability to repurpose beauty wastes i.e. items found in the trash. The beauty industry accounts for 877 lbs. of waste in landfills every minute. You don't want to be listed among the contributors, do you? Why do you dispose of your salon wastes when you can simply recycle them? Instead of trashing excess hair color, plastics, papers, hair, foils, and other beauty waste, forward them to companies like Green Circle Salons – a recycling and repurposing program. This way, you will be saving our environment.
5.
Conserve energy when possible
While running your salon business, conserving energy should be your focus. A good way to start is to unplug certain salon equipment when they are not in use. This is important when doing laundry, which could make your space more environmentally friendly.
6.
Use ammonia-free hair colors
Hair products that contain ammonia can cause various health issues. Interestingly, there are many new innovations in hair color that make ammonia-free products a thing of the past. Using ammonia-free hair color is better for your client's and employees' health. These products are longer-lasting and produce shinier and more vibrant hair.
7.
Encourage your clients and employees to reduce carbon emissions
Sensitization plays a vital role in reducing carbon emissions. This works for salons situated in cities that are easily accessible by foot, bike, bus, or train. As a salon owner, you can encourage your clients and employees to commute to your salon via these transport methods. You can offer a discount or reward to make this action potent.
8.
Organize eco-friendly events with clients and other stylists
Another way to let your community know you are operating an eco-friendly salon is to organize eco-friendly events for your clients and other stylists. These events can show your clients and other stylists that you are part of those trying to change the world.
Top Eco-friendly Salon Equipment for a Glance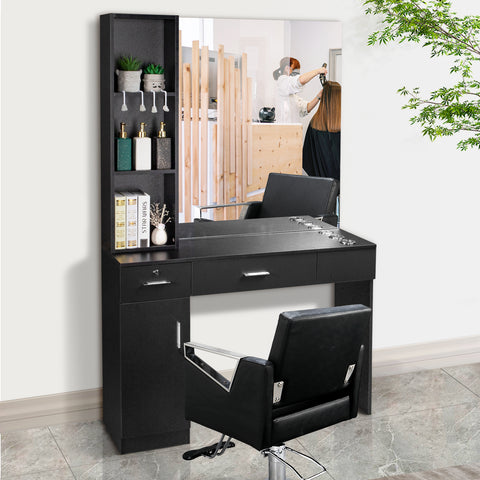 This barber station is made of eco-friendly and durable MDF & ABS materials, equipped with high-quality anti-rust pads, aluminum alloy handles, sliding metal drawer tracks, metal damper hinges, and aluminum alloy sleeves to extend the durability.

This barber station is made of eco-friendly and durable MDF & ABS materials, equipped with high-quality anti-rust pads, aluminum alloy handles, sliding metal drawer tracks, metal damper hinges, and aluminum alloy sleeves to extend the durability.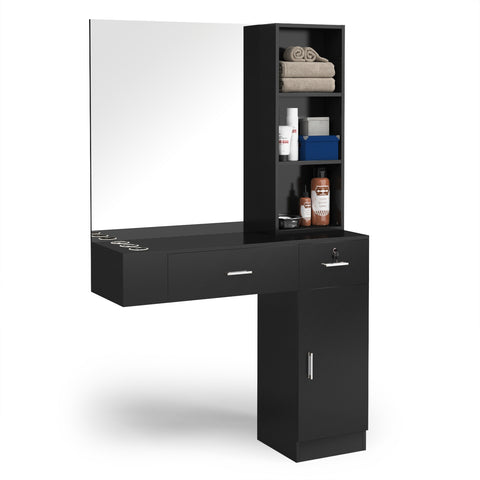 Prior MDF & ABS is eco-friendly and durable in use. The wall mount salon station equip 1 large mirror, and there are 3-tier shelves, 2 drawers, and 1 large-capacity cabinet in the lower part, meanwhile, the desktop owns 3 additional hair dryer holders for putting hair dryer tools, large capacity storage never let the desktop in mess.
Bonus Tips: Omysalon, the Professional Salon Products Wholesaler
Omysalon is a fast-growing salon equipment service brand that is committed to providing high-quality equipment for salon, barber, spa, mani-pedi, massage, and skincare businesses. They have a wide range of products at reasonable prices and offer free & fast shipping in 5-7 business days. Visit Omysalon for more information.
Wrapping Up
Eco-friendly salons are rising in number; unfortunately, some business owners are still not convinced. Well, it doesn't change the fact that sustainable beauty isn't a possibility. Having read this short guide, you should be ready to make your salon more eco-friendly. It gets interested nowadays people are looking for more Eco friendly beauty salons. If you start with these shortlists, you can assure to get more clients and become more sustainable.