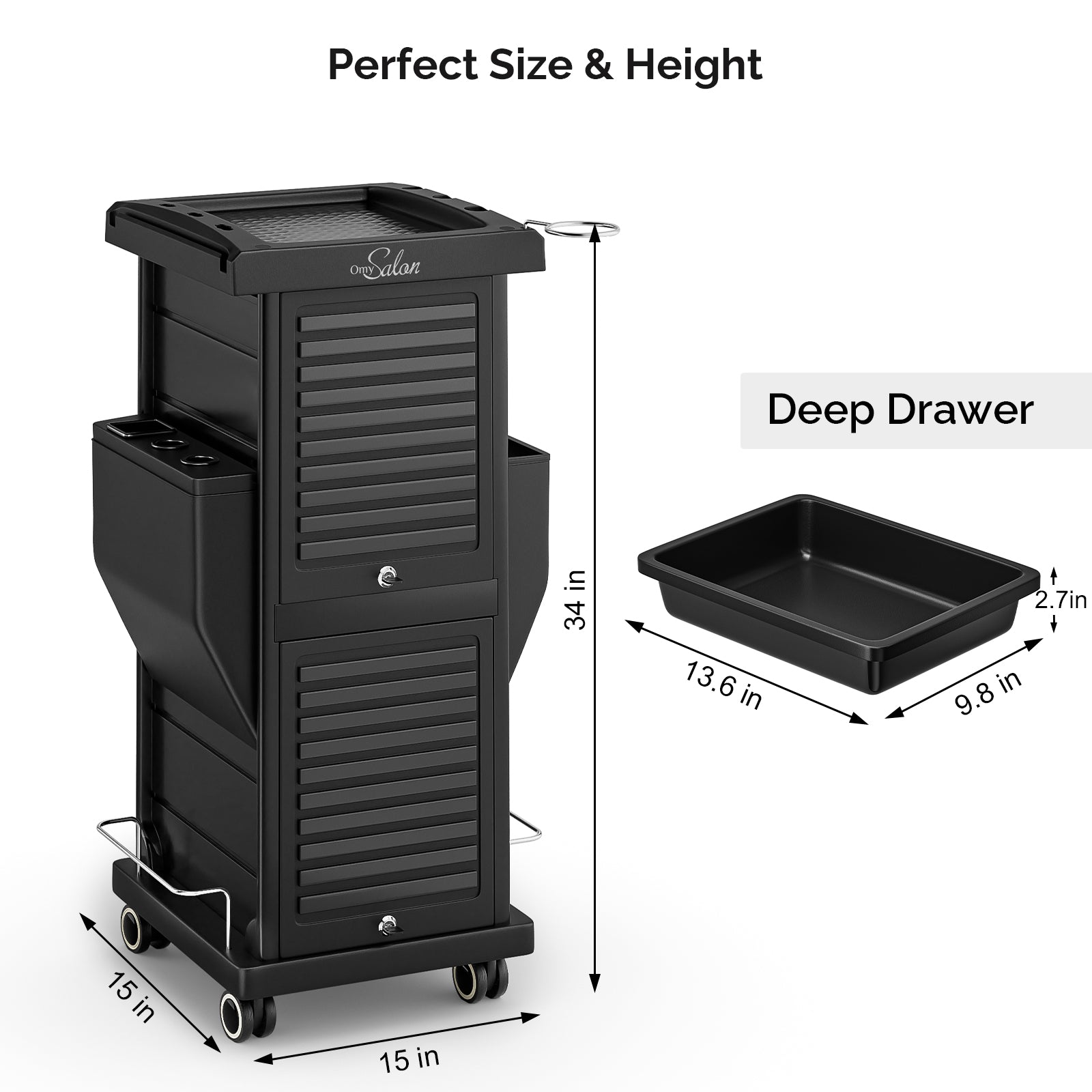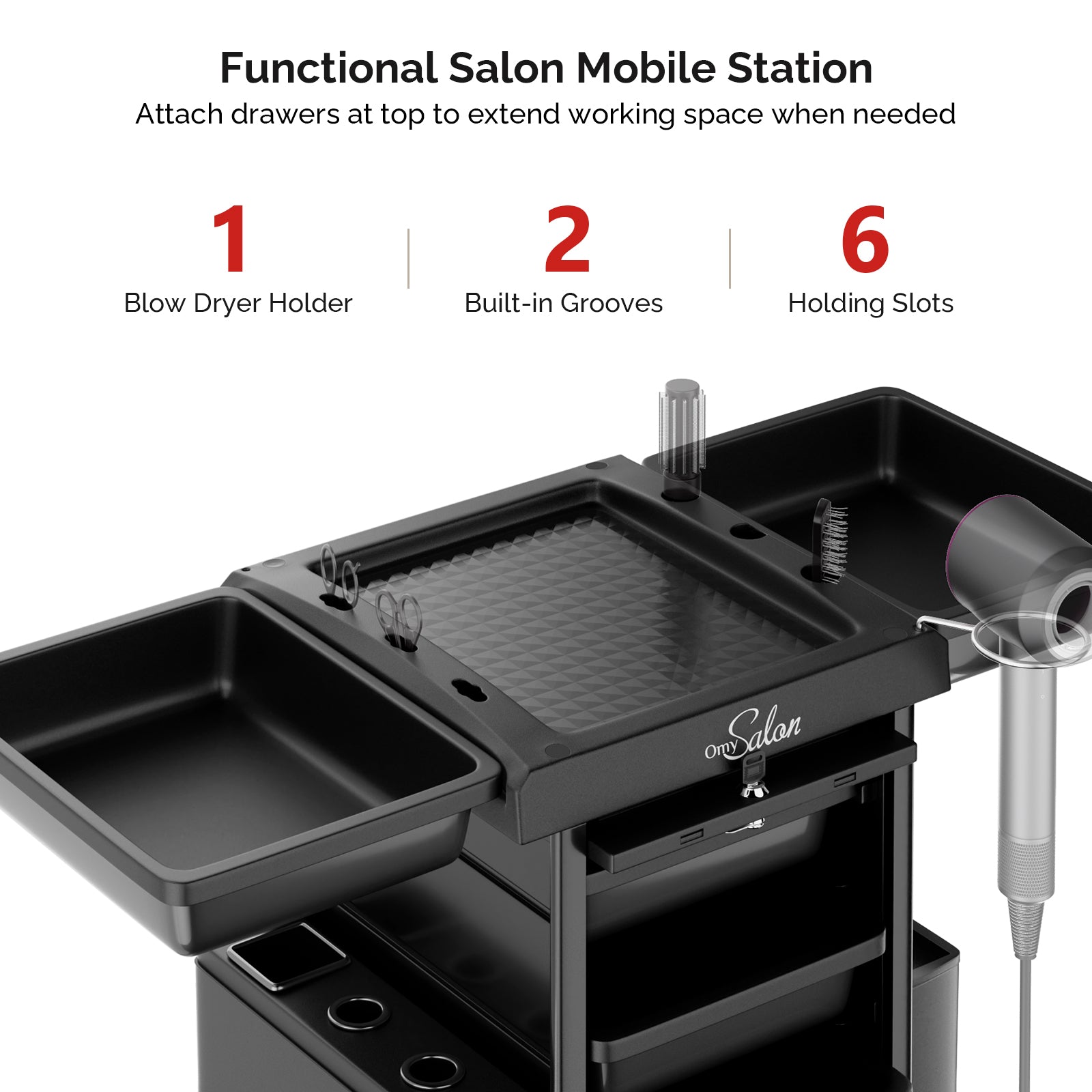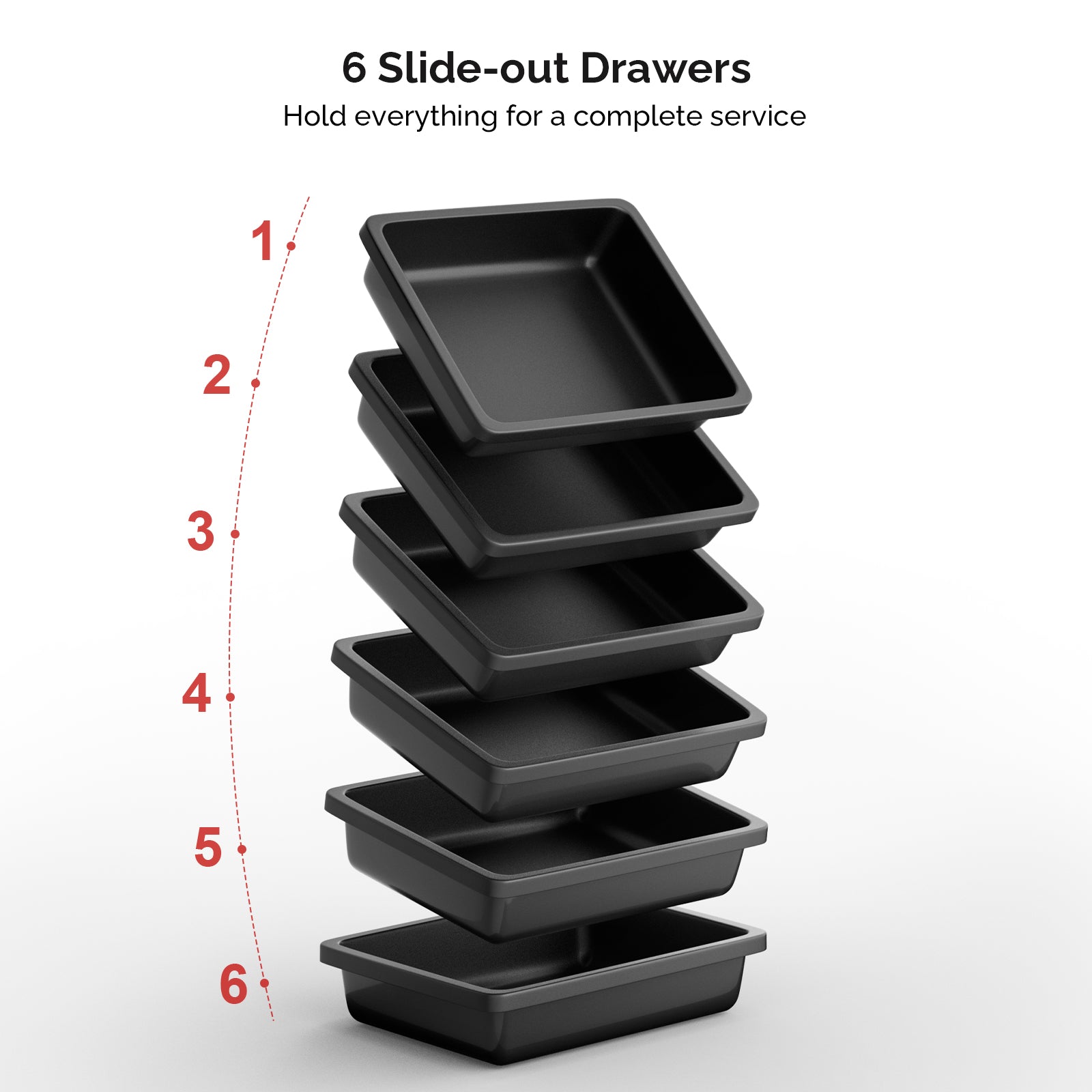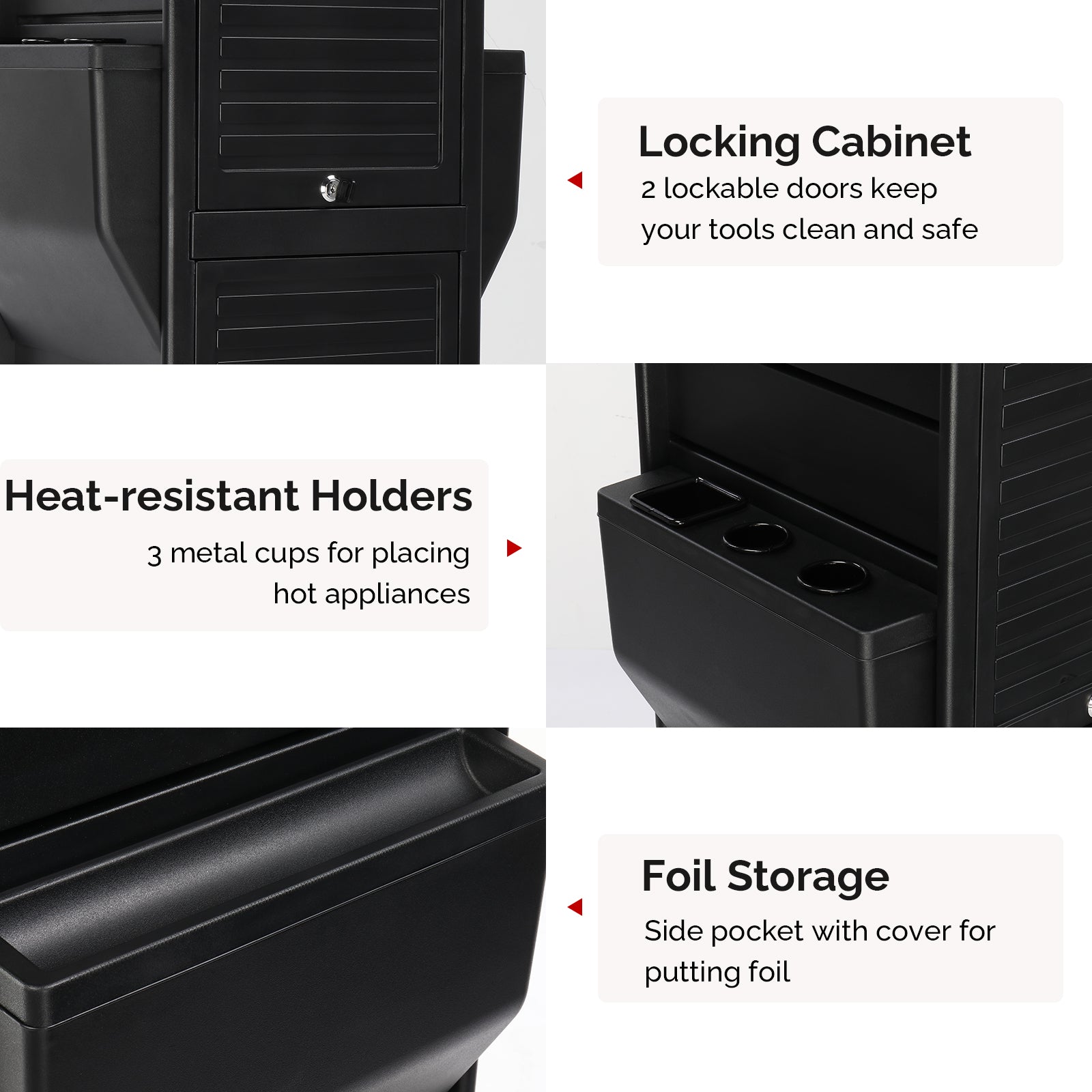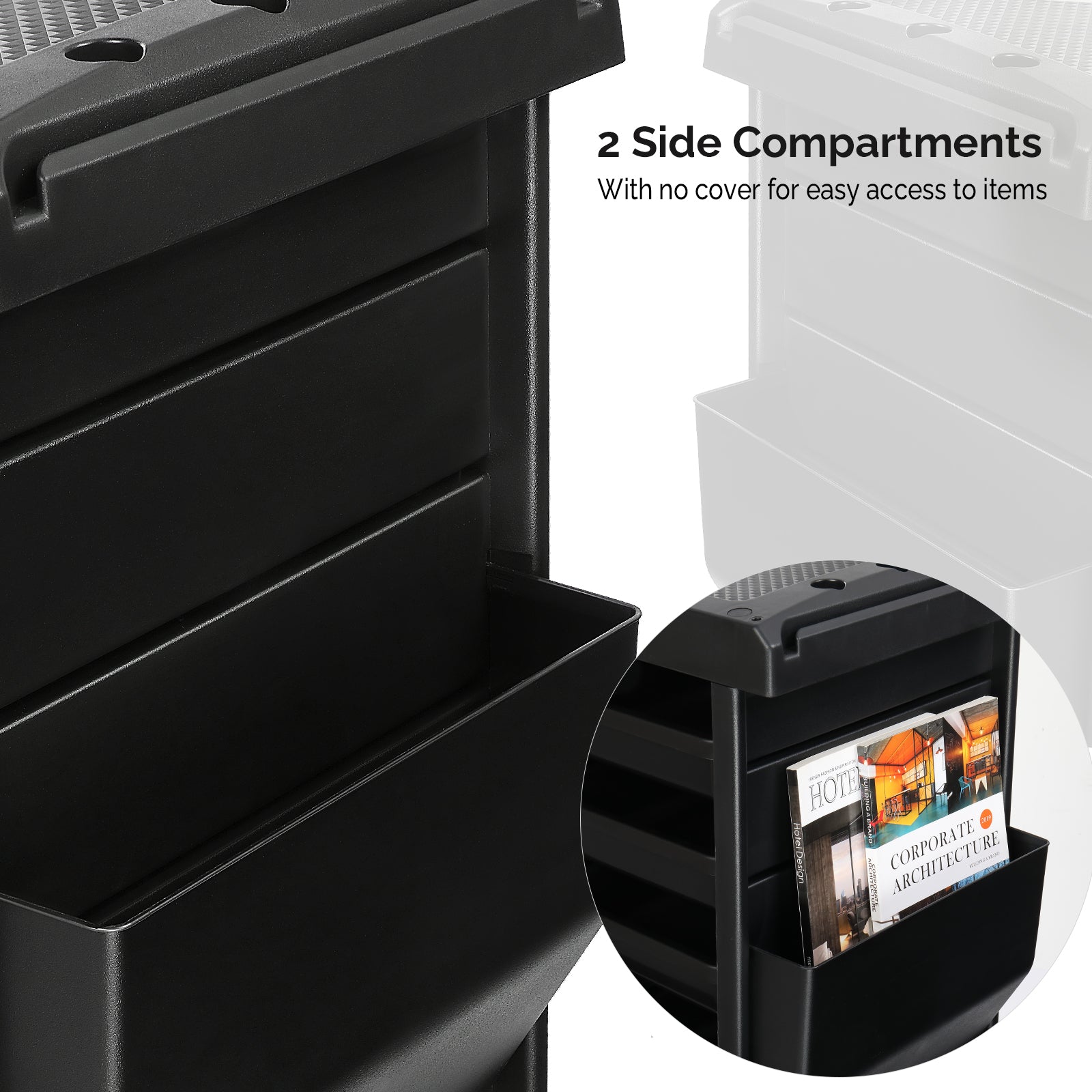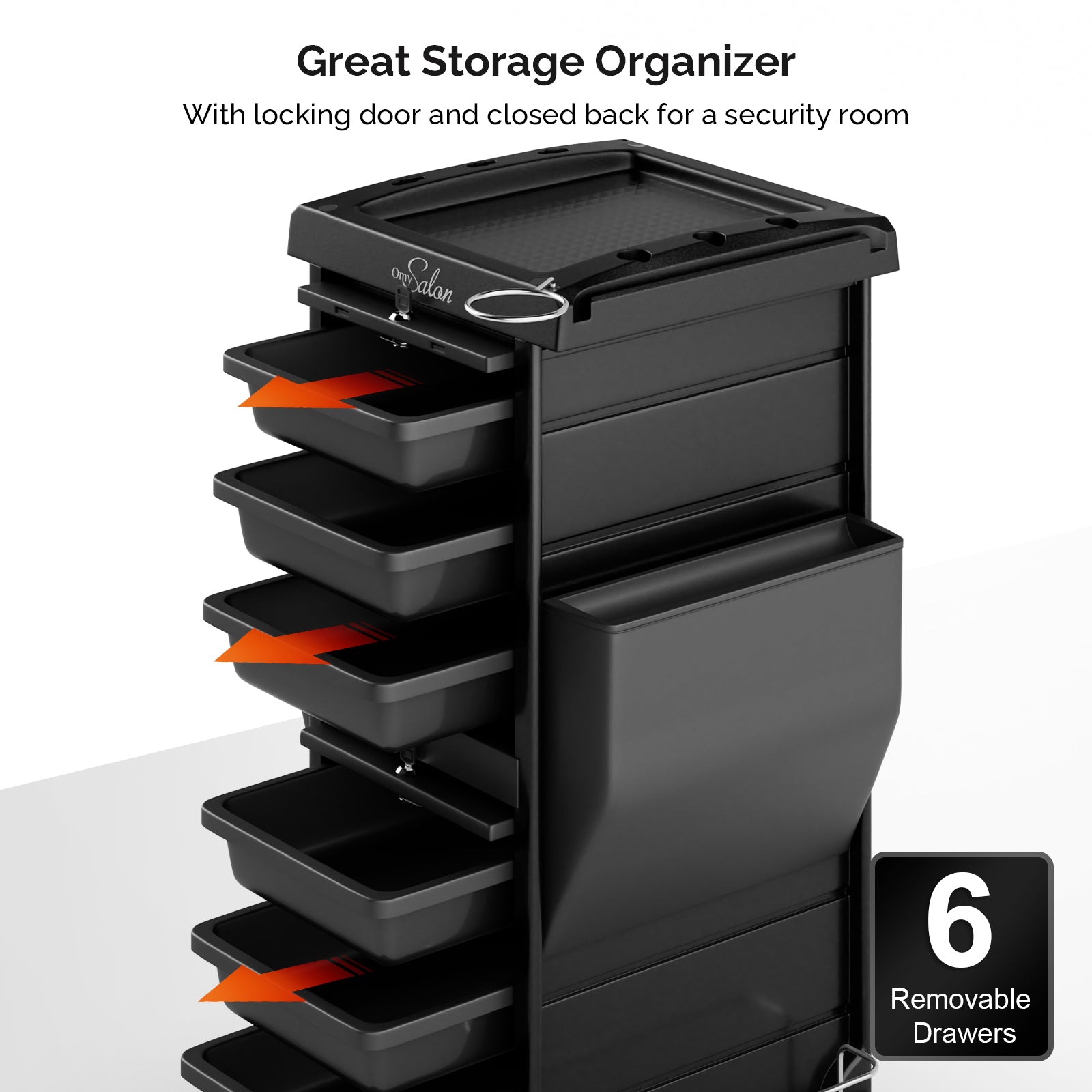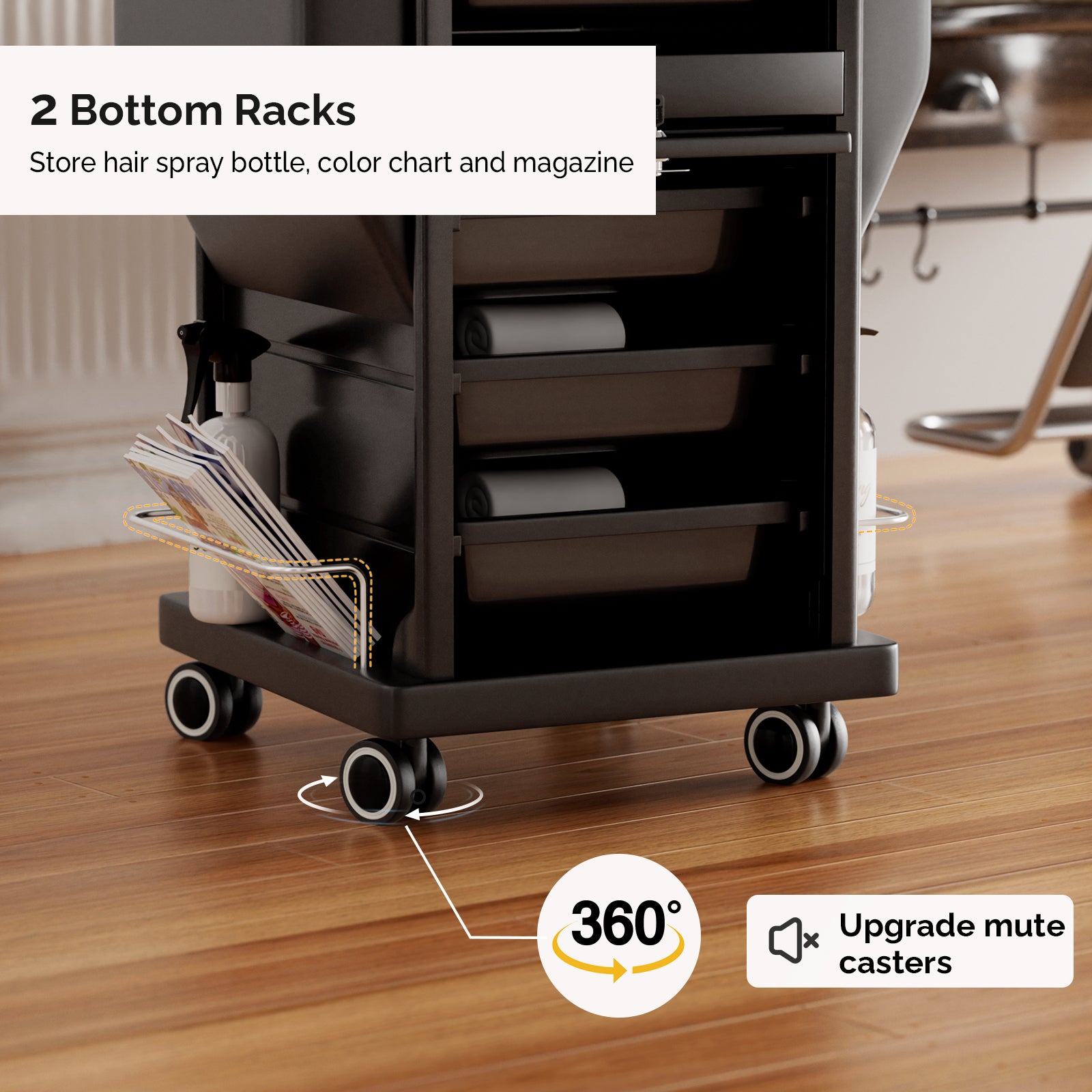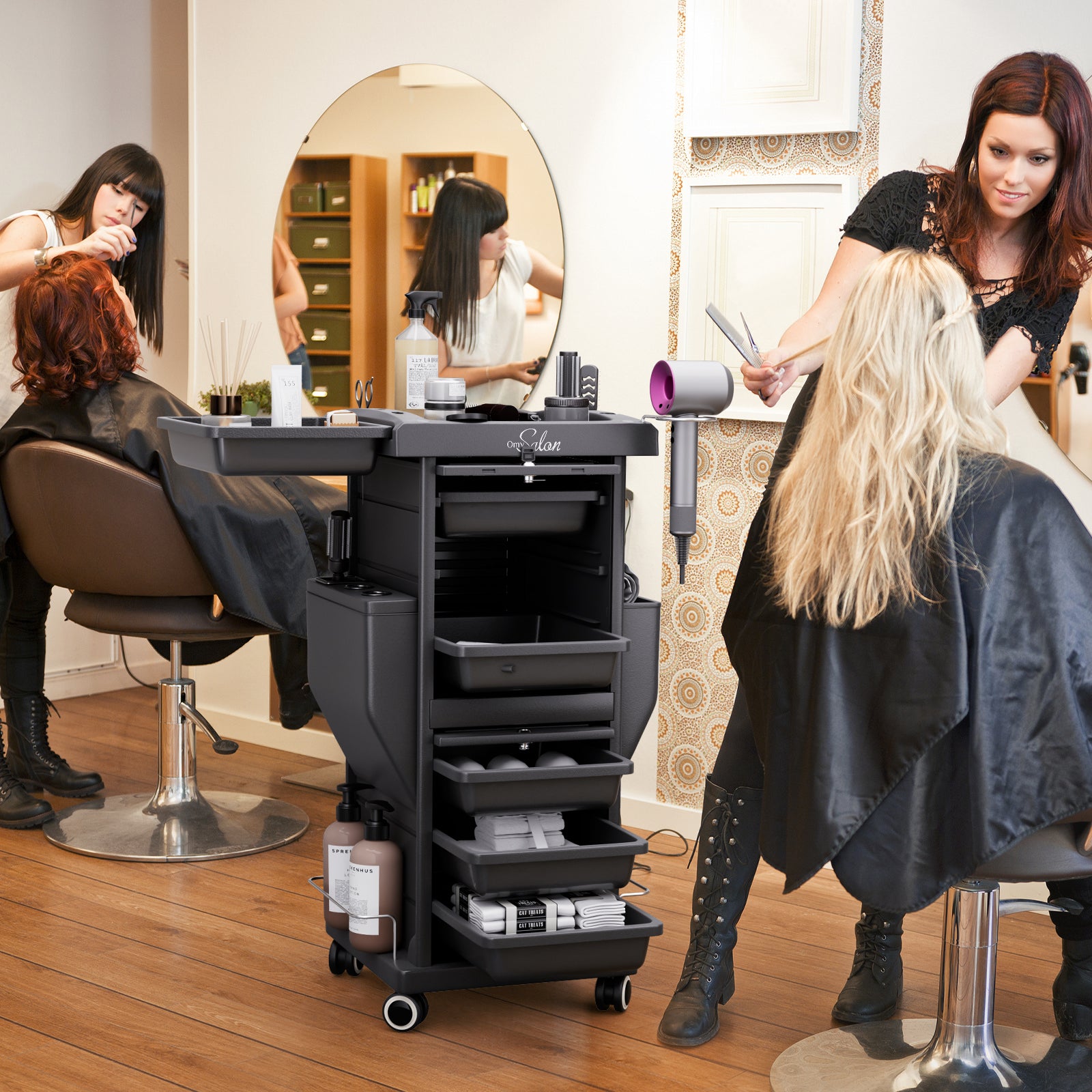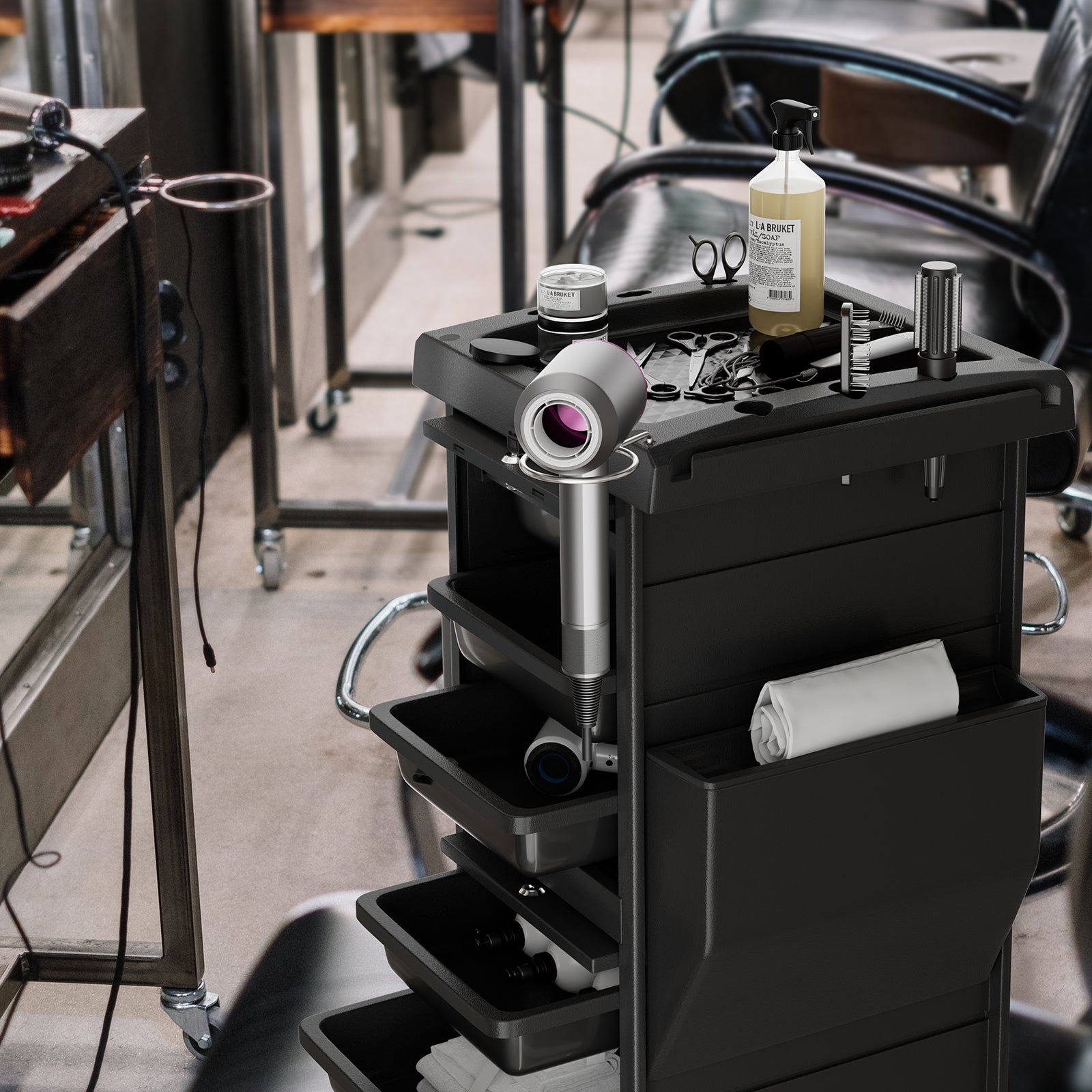 OmySalon Salon Trolley Cart with 6 Drawers Multipurpose Tool Rolling Cart Hair Cart Organizer Black with Lock
Free Shipping - Usually Arrives in 5-7 Business Days
Features:
1.【Sturdy Hairstylist Cart】- Crafted from high-quality ABS material, this cart is exceptionally strong and durable, providing reliable support. Additionally, it features three heat-resistant containers designed to safely store hot tools such as flat irons and curling irons.

2.【Great Storage】- With six pull-out drawers measuring 13.7"L x 9.8"W, the salon trolley cart provides ample space for storing hair styling appliances, makeup tools, and tattoo supplies. It also includes two stainless steel bottom racks for conveniently holding water sprayer bottles. This versatile cart serves as an excellent mobile styling station, ensuring efficient organization of your tools.

3.【Locking Hair Trolley for Hair Stylists】- If you value the security and privacy of your personal items while you're away from work, this trolley is an ideal choice. It features two lockable doors, each equipped with two keys. By locking the compartment doors, you can safeguard all your styling appliances and other belongings, keeping them securely hidden.

4.【Smooth Rolling Cart】- Equipped with upgraded mute and durable casters, this hair cart rolls smoothly and effortlessly. Its design prevents hair from getting caught, making it convenient for hairdressers to move it around during hair services. The 360-degree rotation of the casters ensures excellent maneuverability even in tight spaces.

5.【Easy Assembly】- Effortlessly assemble this stylish salon trolley using the provided instructions and tools. This versatile cart can hold various tools such as makeup, hair styling equipment, and nail beauty supplies, making it perfect for stylists, cosmetologists, beauticians, and barbers.
Spacious Working Space
Designed to expand the top surface by adding drawers on side. The surfaces are chemical resistant and extremely easy to clean and maintain for years to come.
Deep Drawers
Made from durable ABS, drawers has longer lifetime than ordinary one. Equipped with 6 drawers of 13.6''L x 9.8''W x 2.7''H can fit all your hair rollers and stuff in these drawers.
What You Get:
1 x Salon Trolley Cart
Color: Black
Overall Dimension:15''x 15''x 34''
Drawer Quantity: 6
Drawer Dimension: 13.6''x 9.8'' 2.7''
I'm not a stylist, I just wanted some place to store my products
This is made for a stylist, but I am using it to store the waaaay too many products and tools I own. The drawers are shallow but I took some out to store tools. The rest hold products. It has made a really big difference - my counter is now clear and everything is organized and easy to get to! I will probably get a silicone heat resistant mat for the top so I can toss my tools on it. It's good for the price.
Great little trolley
For the price, I am happy.
I do traveling skincare and I needed a cart to carry all of my waxing supplies and I've been through a ton of different products including tool boxes and luggage carts and finally, I tried this. It was really easy to put together and even though the parts seem flimsy as separate pieces, once put together, it is really quite sturdy. There is a surprising amount of room inside for my products, wax sticks, table drapes, extra wax pots, wax warmer, oils, powders, wax remover, wax strips etc. And the pockets on the side are great for carrying my consulation forms and releases. I use metal arm on the top that is meant for a hair drier to hold my trash bag. It is the perfect height and weight for transferring everything from my car to my clients homes.
Better then expected
Arrived early and was better then I hoped for. I love having all my makeup and hair products in one place. This cart is perfect.
It's perfect.
I was actually quite impressed by this little trolley.