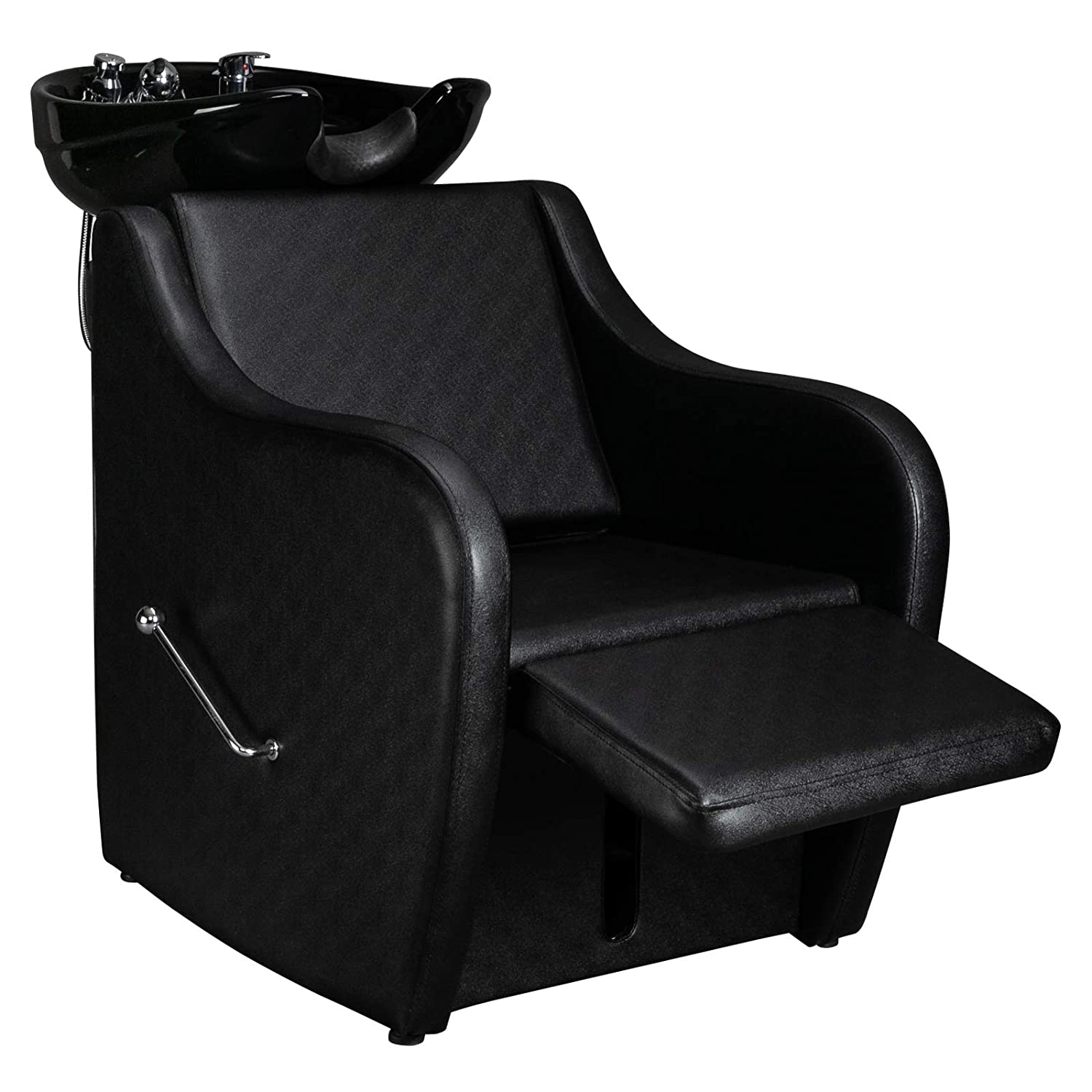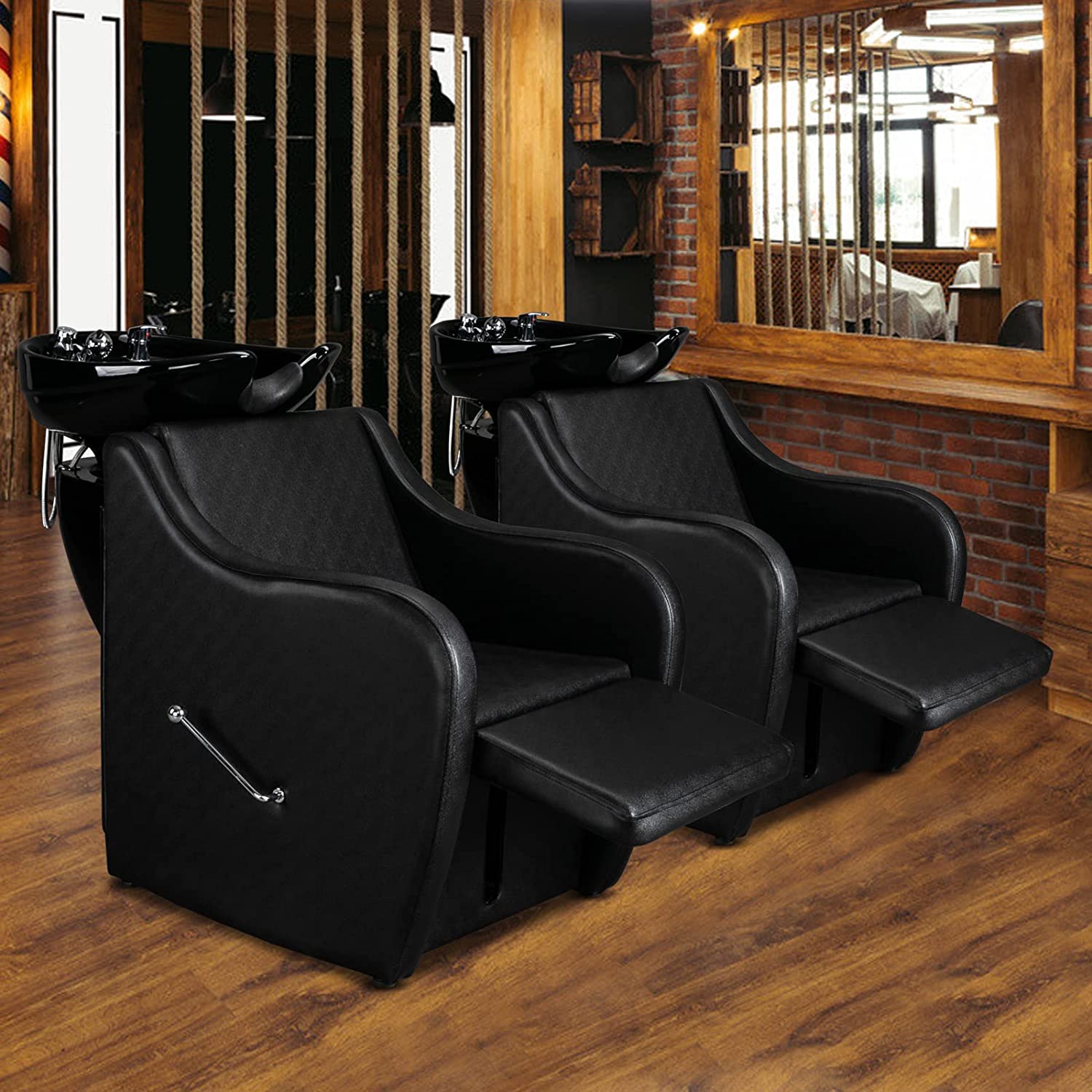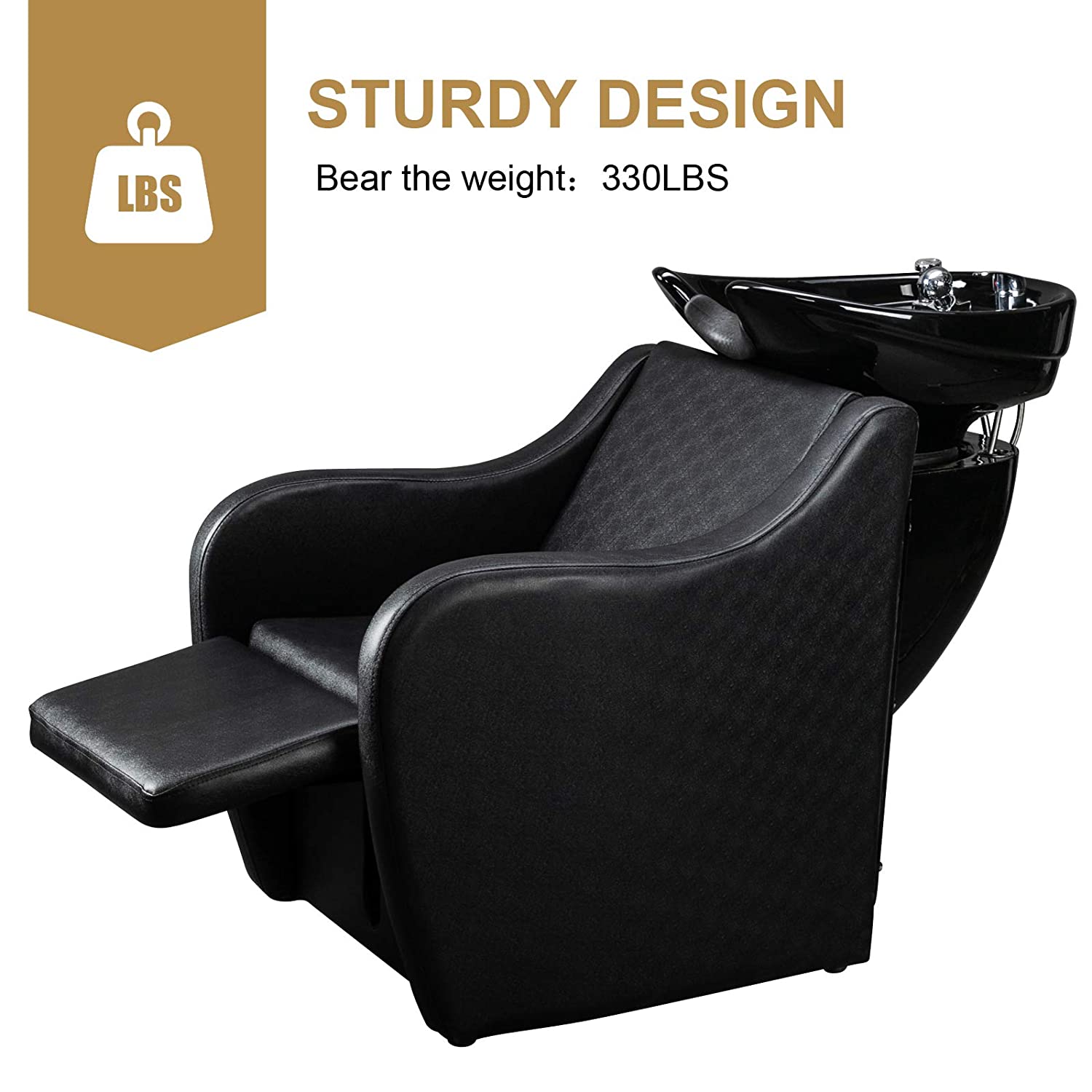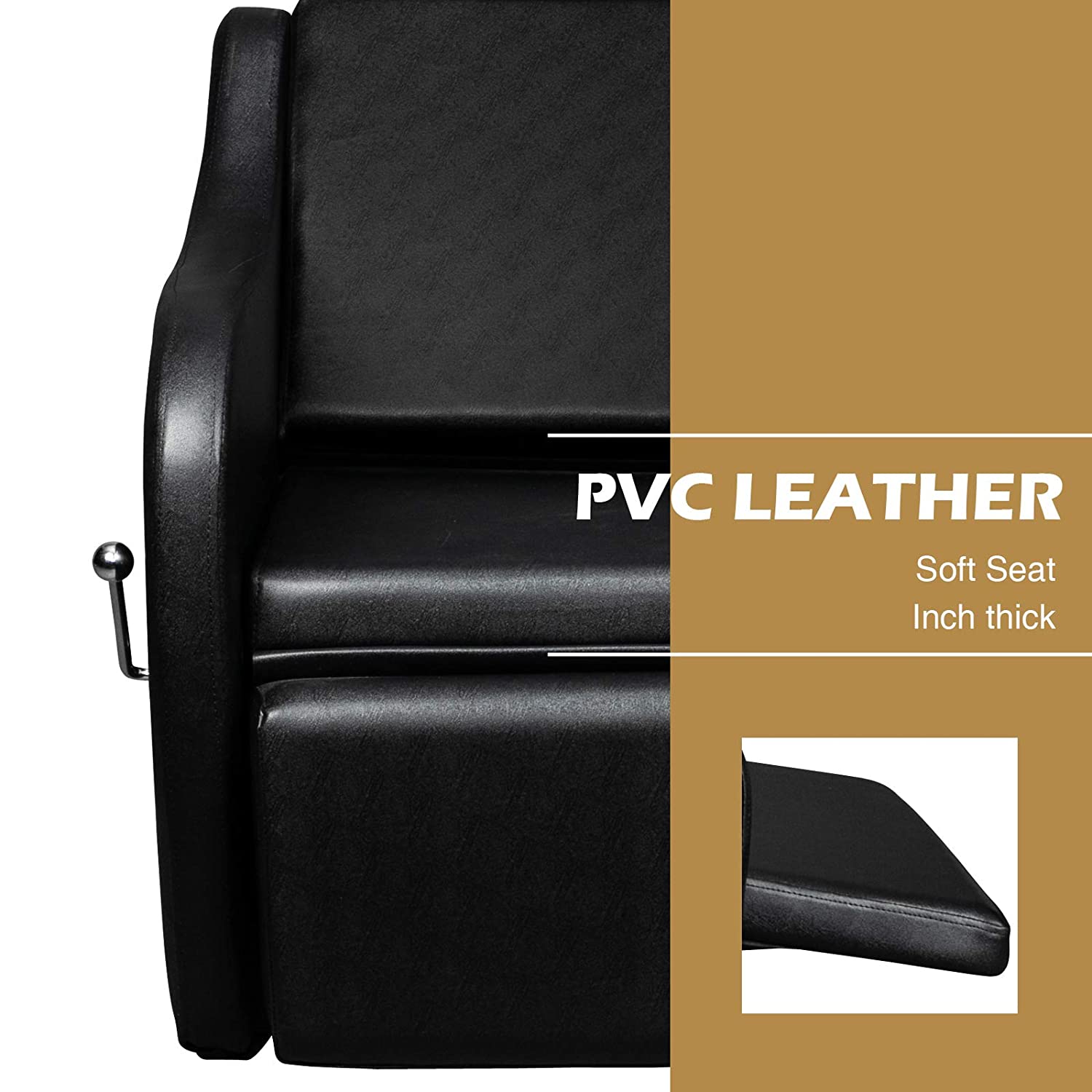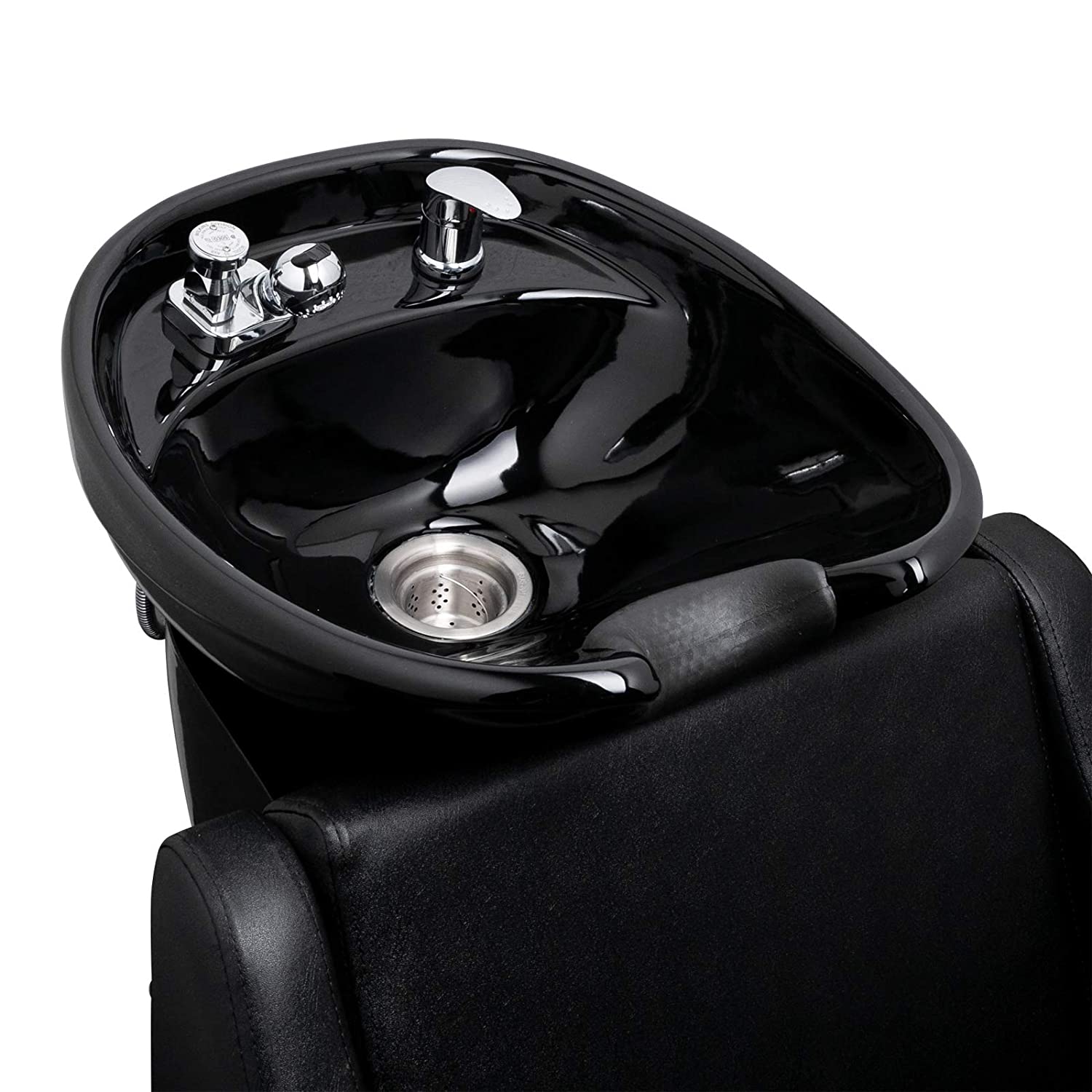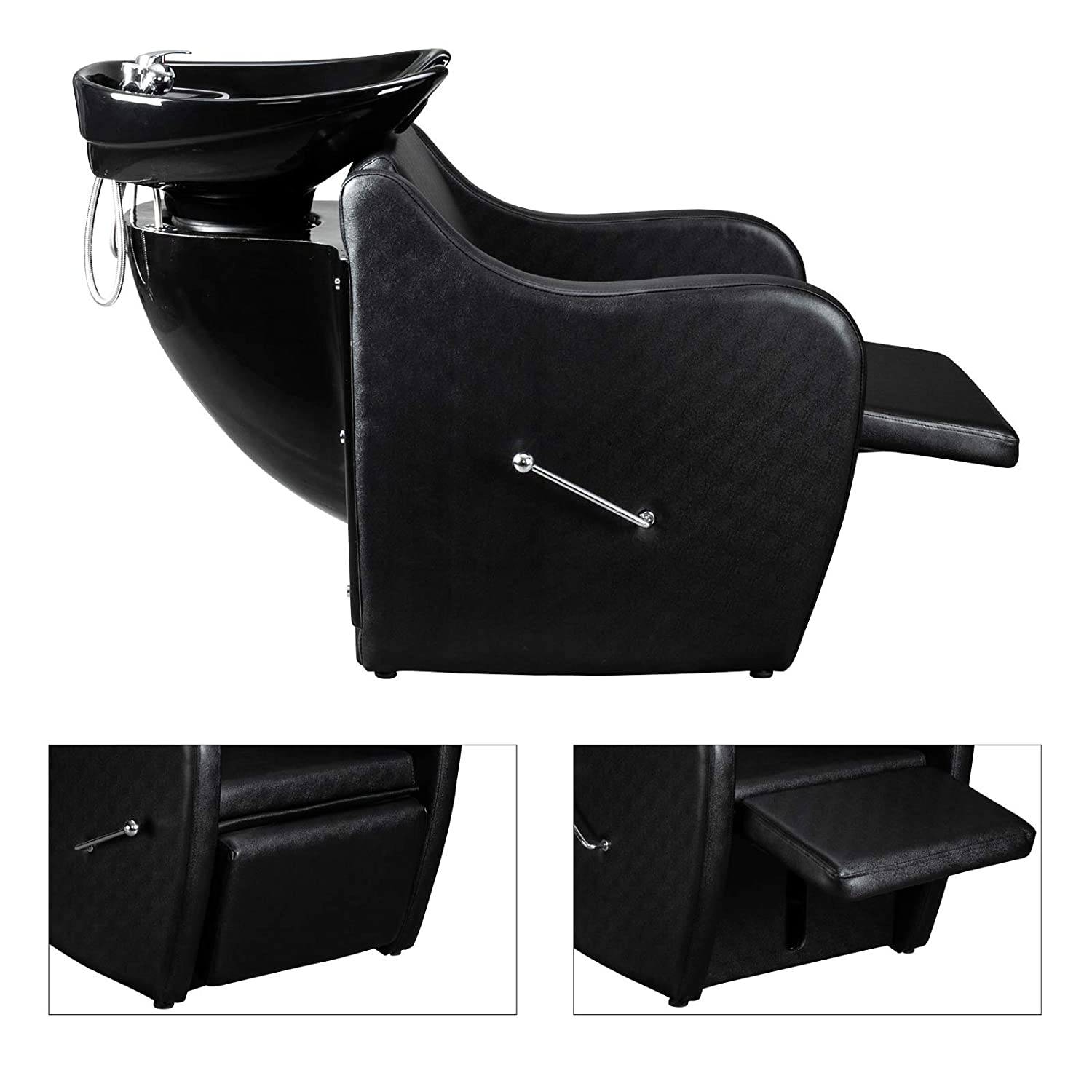 OmySalon Barber Backwash Chair ABS Plastic Shampoo Bowl Sink Unit Station Spa Salon Equipment
Free Shipping - Usually Arrives in 5-7 Business Days
Features:
1.【High-Quality Materials】- This shampoo chair features a ceramic bowl sink that is incredibly durable, stylish, and easy to clean. The solid wood frame, small cell high-density sponge, and enhanced PVC leather are waterproof, easy to clean, and resistant to wear. This ensures that the chair can be used for a long time.

2.【Adjustable Footrest】- The shampoo chair is equipped with a fold-down footrest. By pulling on the chrome handle, the full length of the seat can be extended to 31 inches, allowing customers to fully release their legs.

3.【Comfortable Design】- The streamlined body structure and reclining radian of the chair make it elegant and relaxing for customers to lie down. Moreover, it provides stress relief and supports the lumbar vertebrae. The tilt-bowl with adjustable height allows you to easily customize the chair for maximum comfort.

4.【Convenient Assembly】- The package includes a detailed installation manual with step-by-step instructions. All necessary accessories are included. By following the instructions, you can easily install this shampoo chair. If needed, we can provide an installation video.
Shampoo Barber Backwash Chair with Ceramic Bowl
Are you in search of a beautiful and comfortable salon shampoo station to meet your salon needs? Look no further, as the salon shampoo backwash chair is an excellent choice. This shampoo chair comes with everything you need for easy setup. Don't hesitate to bring this fully functional salon shampoo station to your establishment!
Classic and Stylish Design
The chair is designed with a classic and stylish appearance that complements any barbershop decor. It will fulfill all your salon needs.
High Quality PVC Leather
The seat dimension is 20"L x 17.7", is soft and comfortable, it made of the high quality PVC leather, the small cell high density foam can add the extra comfort for your clients.
Oversized Ceramic Shampoo Bowl
The bowl dimension is 23.6" x 20"W , is wide and fully adjustable. And it comes fully equipped with all necessary hardware. And it is extremely durable,stylish and easy to clean.
Comfortable Footrest
Designed with the adjustable footrest which can offers extra comfort to your customer. The footrest dimension is 20" x 19.7".
Adjustable shower head
Featured with adjustable shower head which can ensure the water to uniform outlet and easy to use.
What You Get:
1 x Salon Backwash Chair
[Notice]
The package will be shipped in 3 separate boxes whose arrival time might differ. After you receive one box, please wait for others 1 or 2 days to get the full set of parts.
1. Seat dimension: 20"L x 17.7"W

2. Back dimension: 20"L x 17.7"W

3. Washing Bowl dimension: 23.6" x 20"W x 7.9'D ;

4. Seat height from ground: 20.5"

5. Armrest width: 3.1"

6. Base dimension: 40.2"L x 15.4"W x 24"H

7. Footrest Dimension: 20" x 19.7"

8. Product Dimension: 59''L x24.4''W x32.7''D
Comfort
I love that the bowl moves. And the guys think the comfort is amazing. It is definitely a good upgrade in my barbershops
Very pleased with customer service, the purchase and it looks great!
This is perfect for what I am using it for. The extra headrest inside the sink is a little strange, but the first client I used it on said it was very comfortable...so that's a plus. Originally was missing a couple nuts and a rubber ring. I contacted the seller and they sent them to me direct with the week, not hassel. Very pleased with the customer service, the purchase and it looks great! As a couple people mentioned prior, there were a few things my plumber had to get to hook up the sink, but not expensive parts/pieces.
great for ergonomic
So far a bit difficult to assemble for me...but great for ergonomic use...and affordable.
Happy I purchased this
Aswome. Like the size of the bowl and the over all look. Glad I purchased this.
Perfect but can be more great
Perfect shampoo bowl only thing we wish was the drain tube was longer but other then that great and easy to put together.