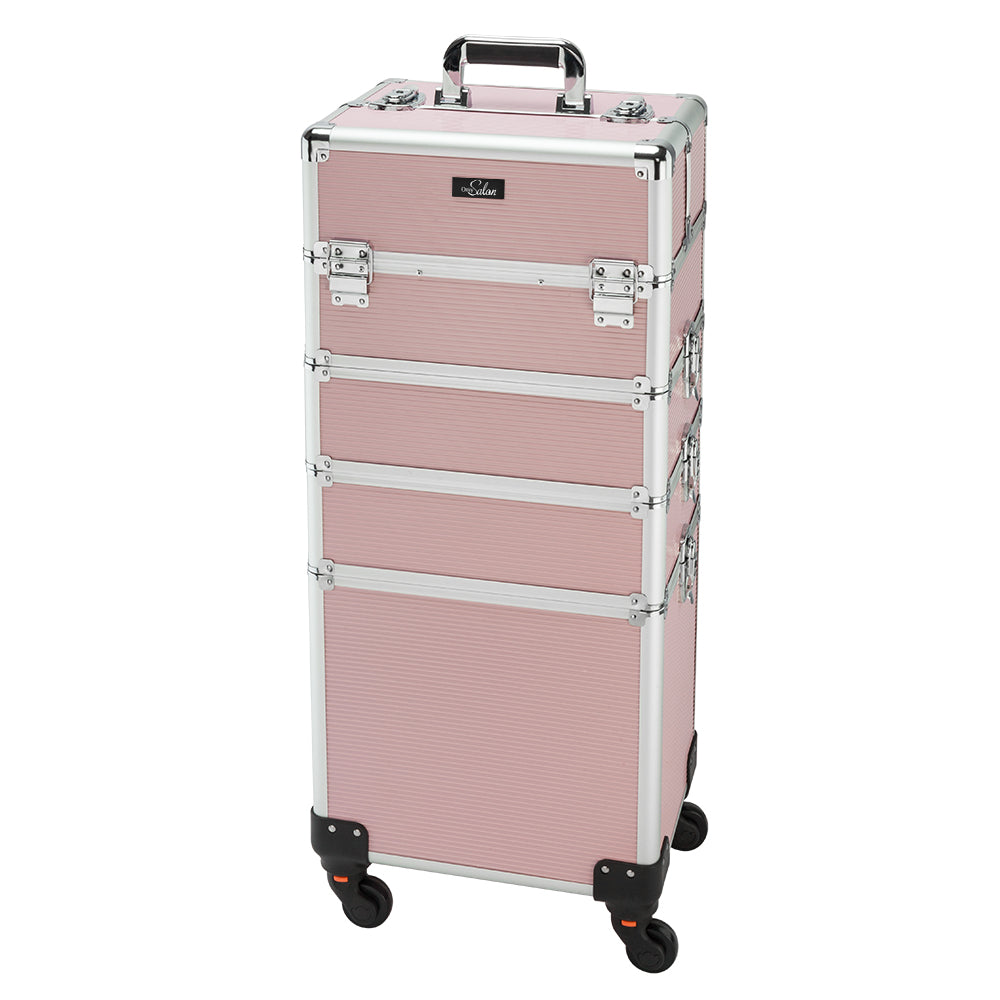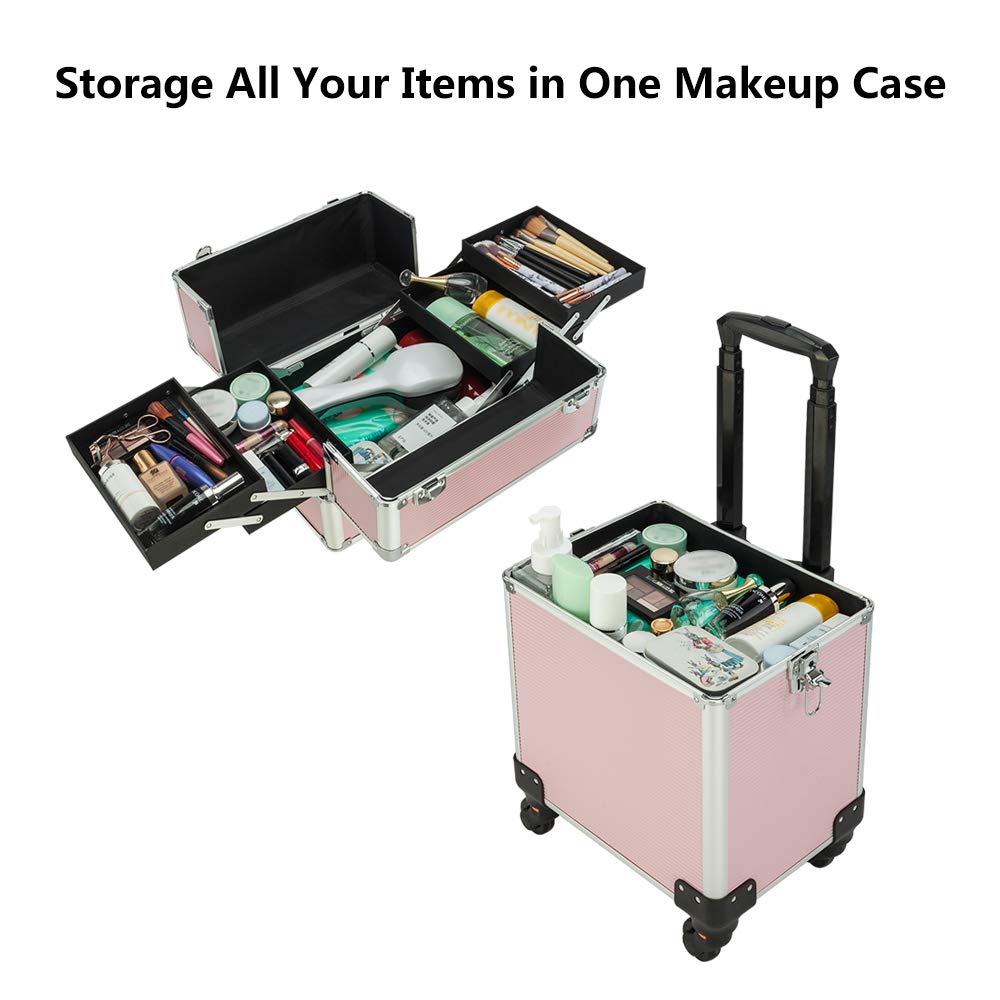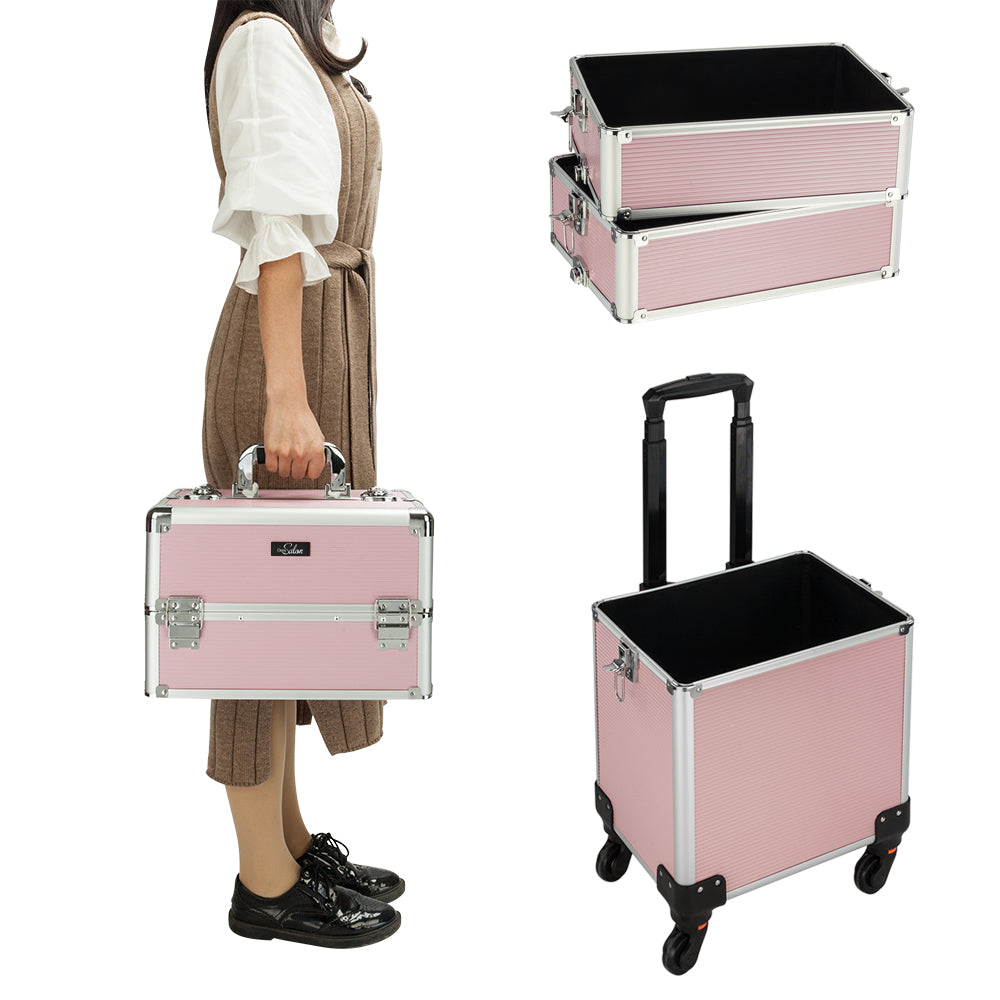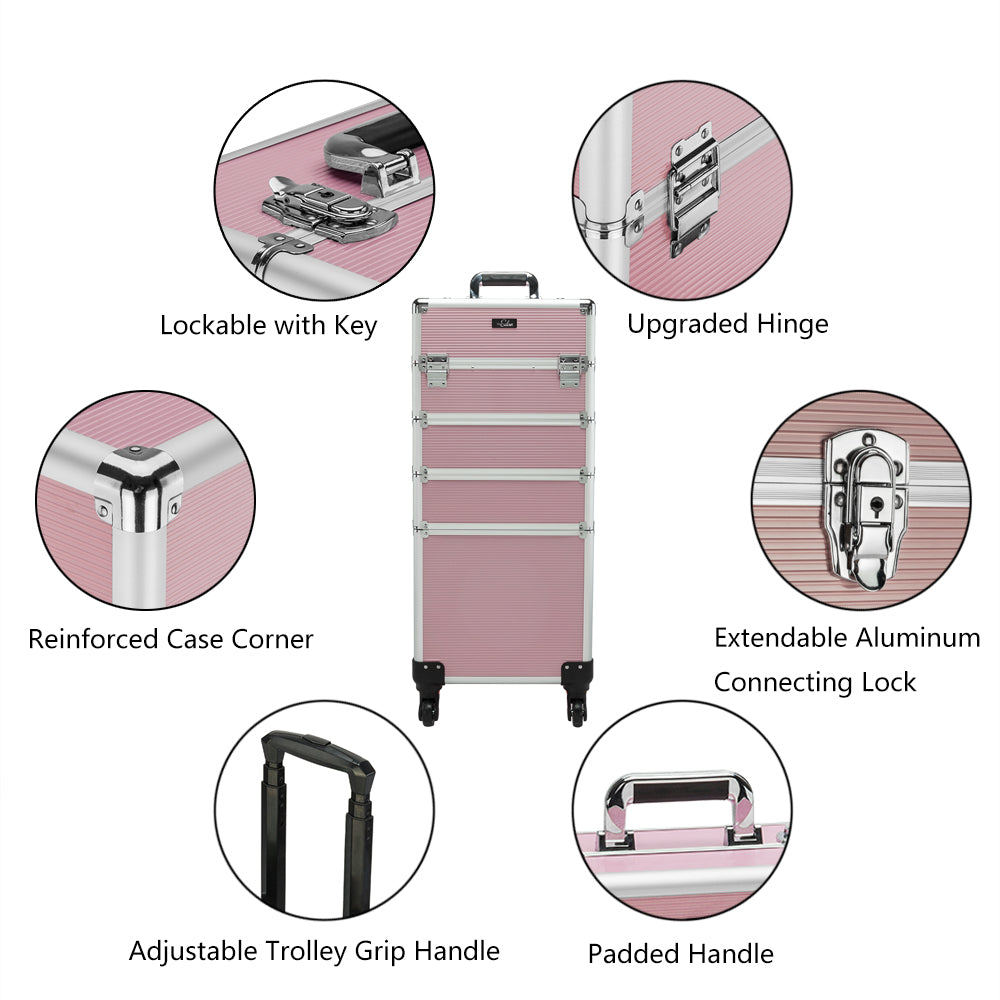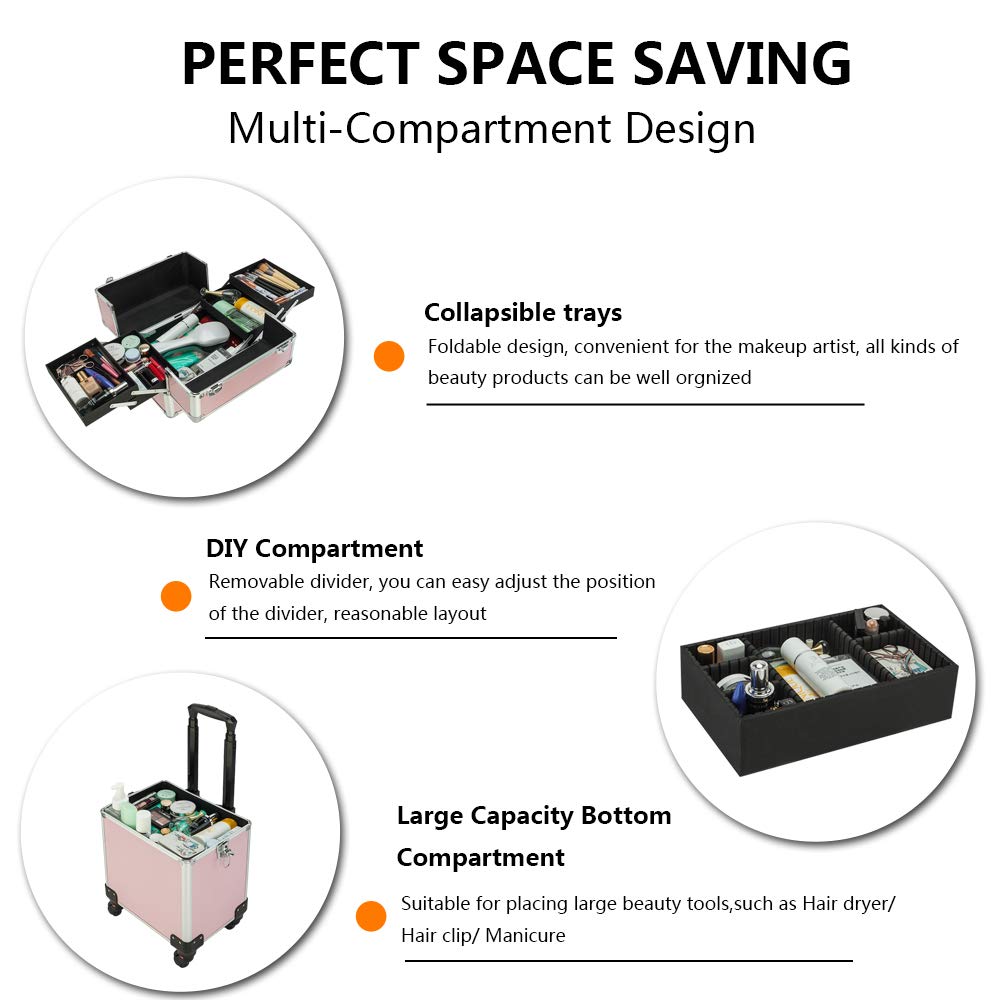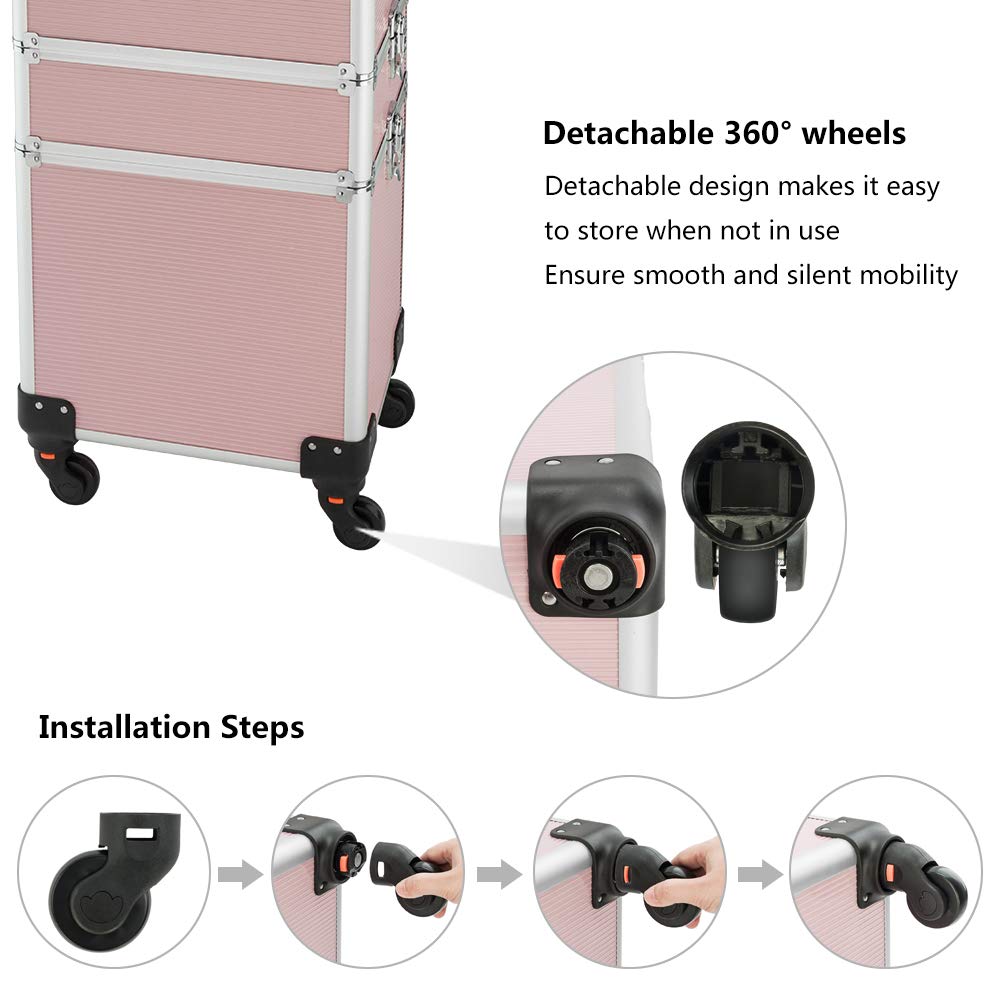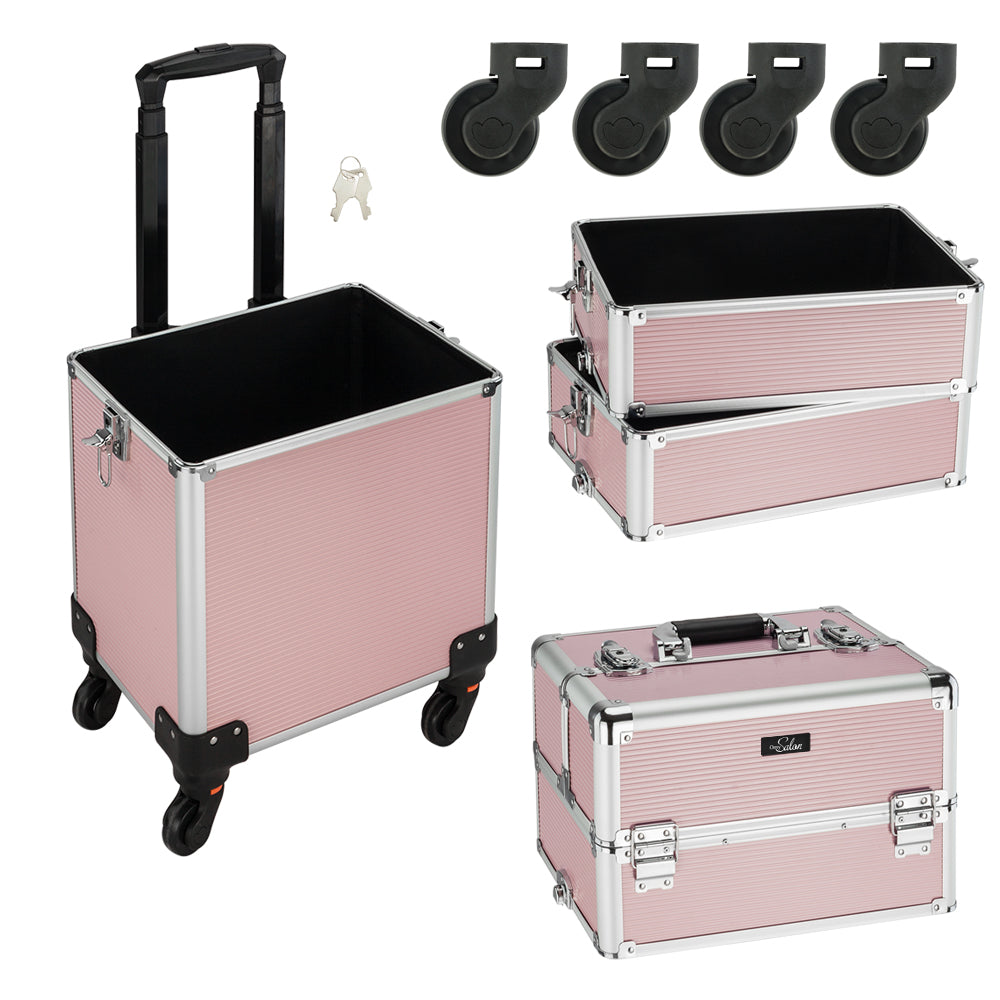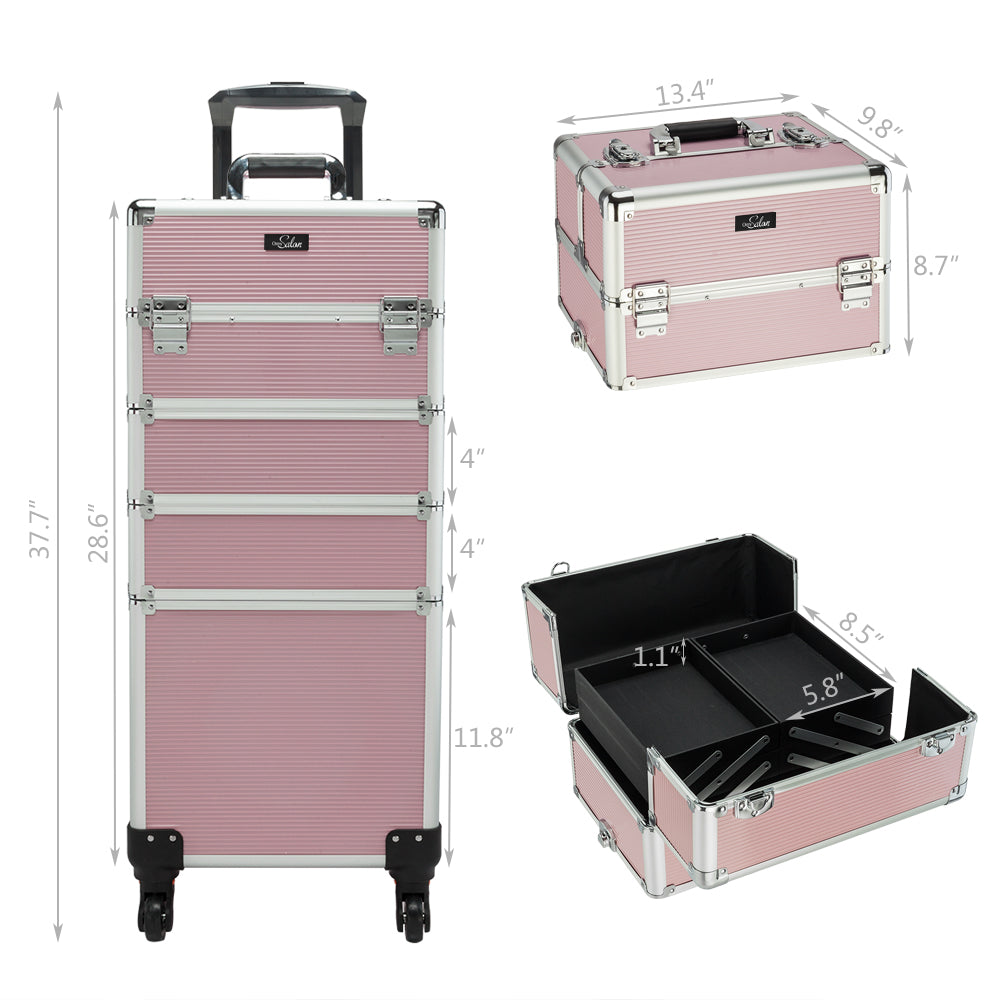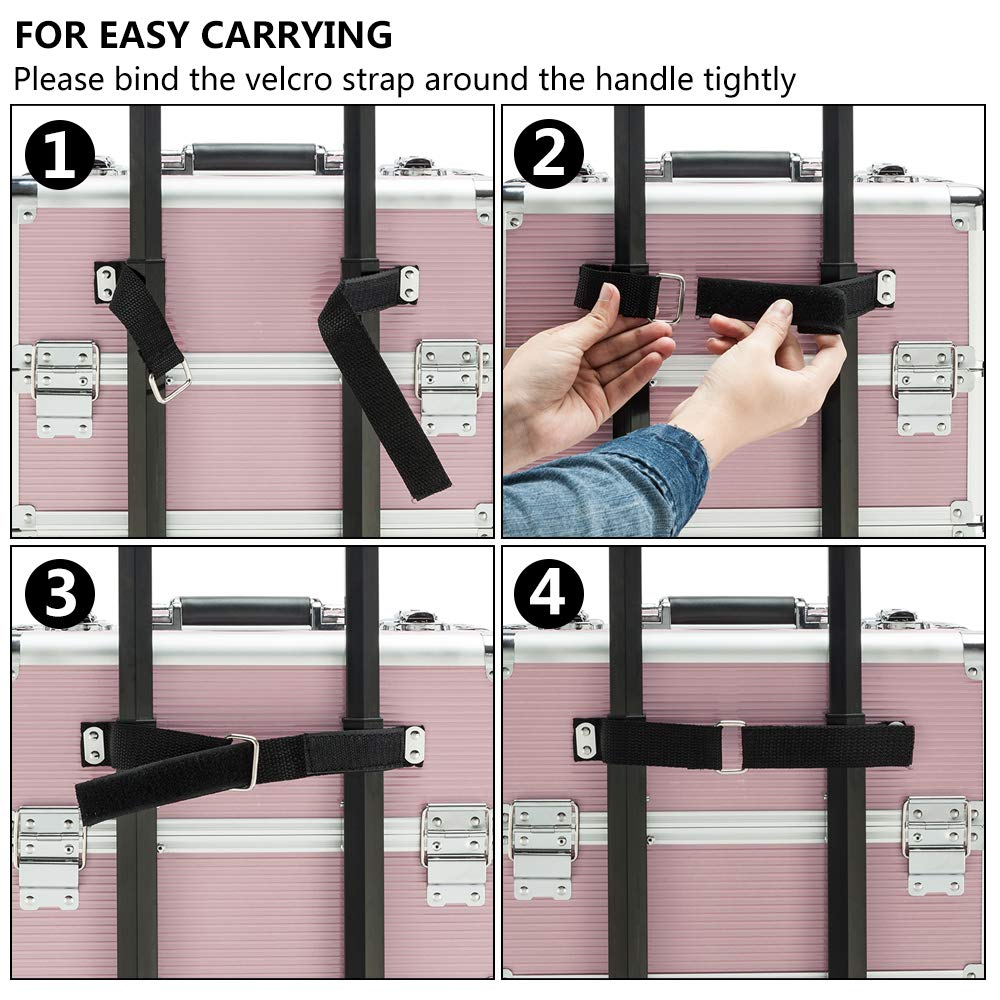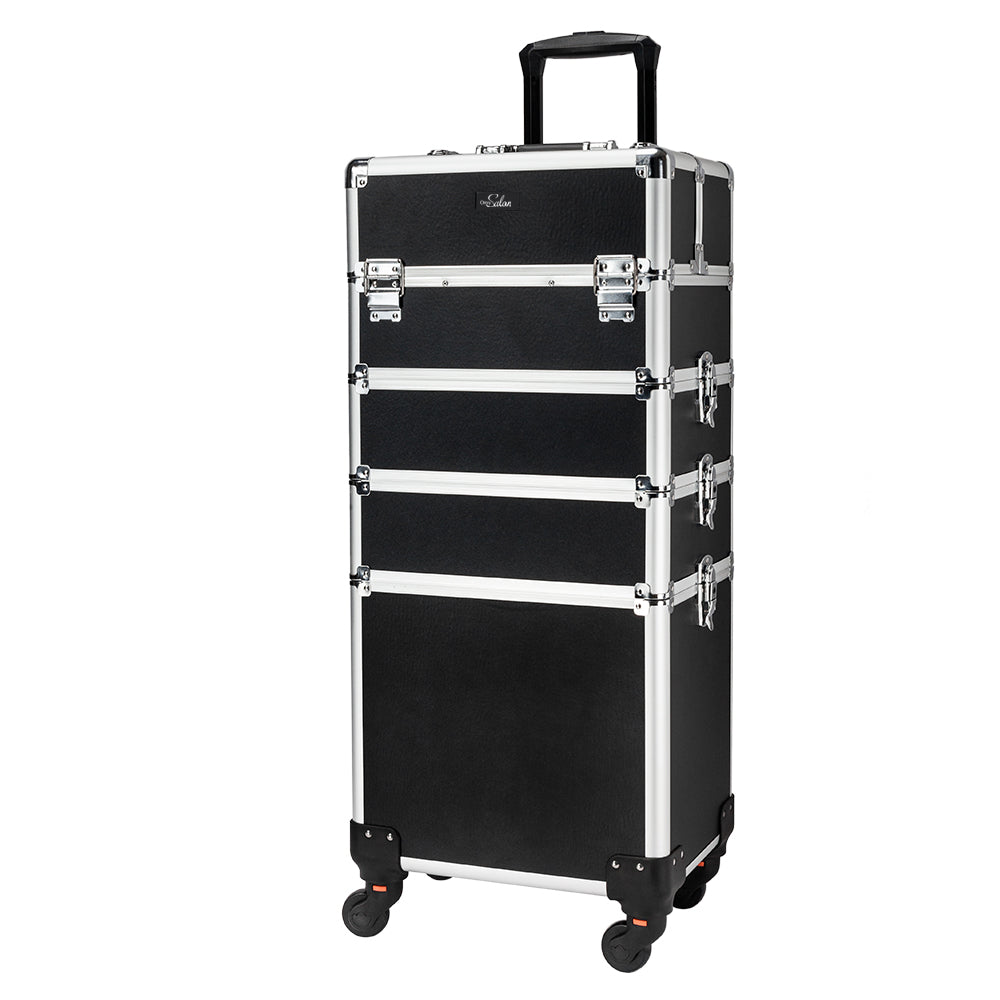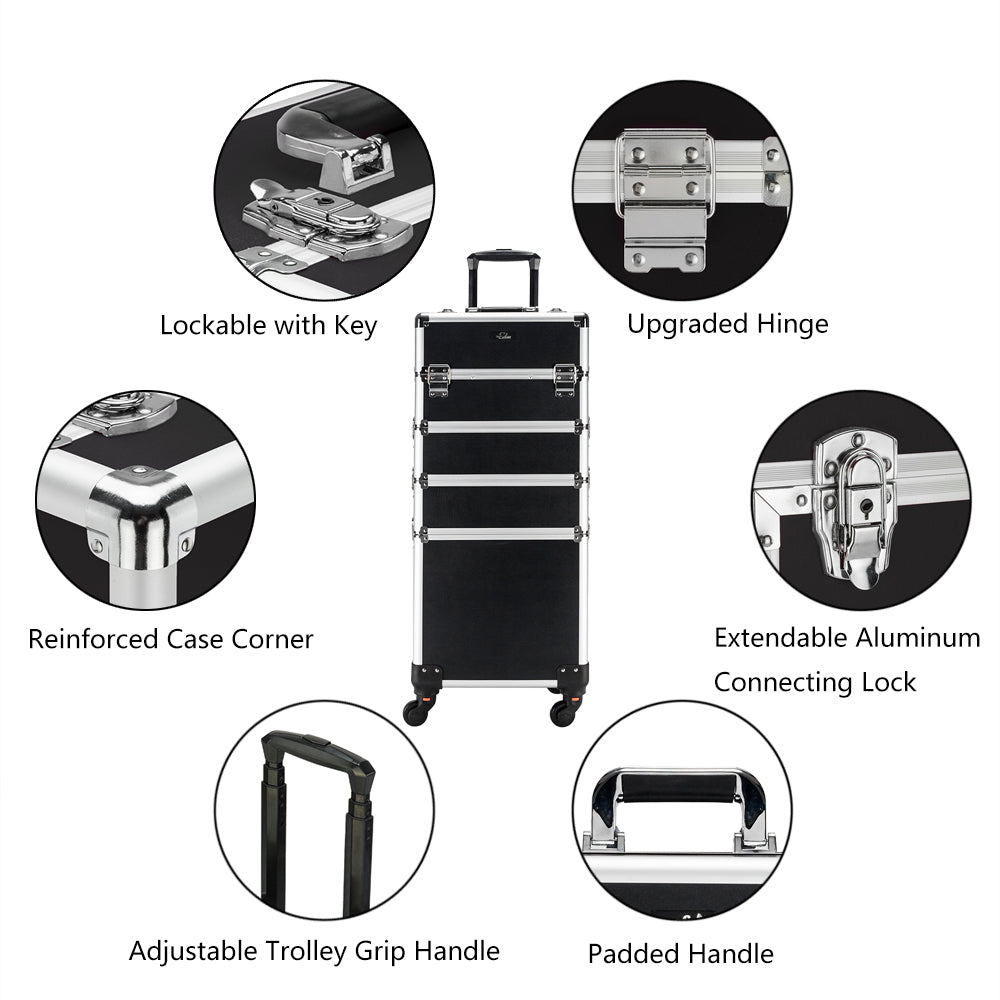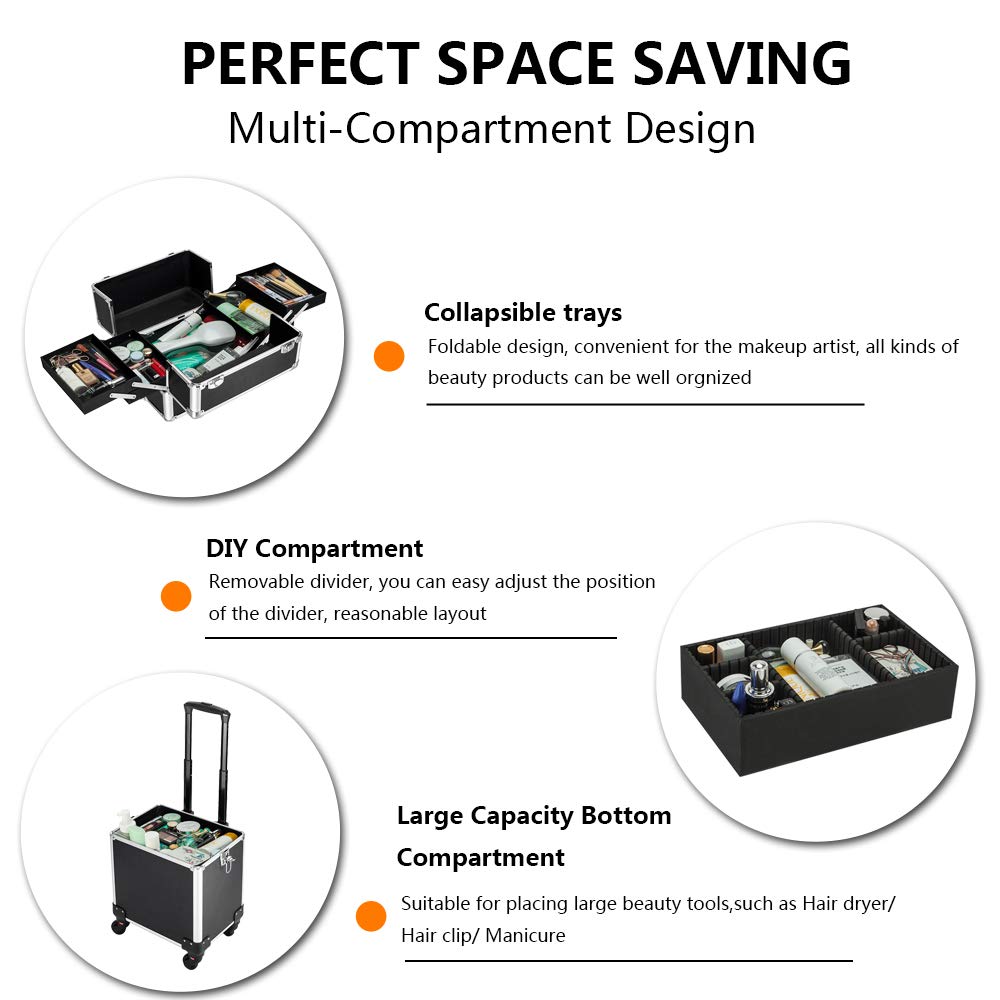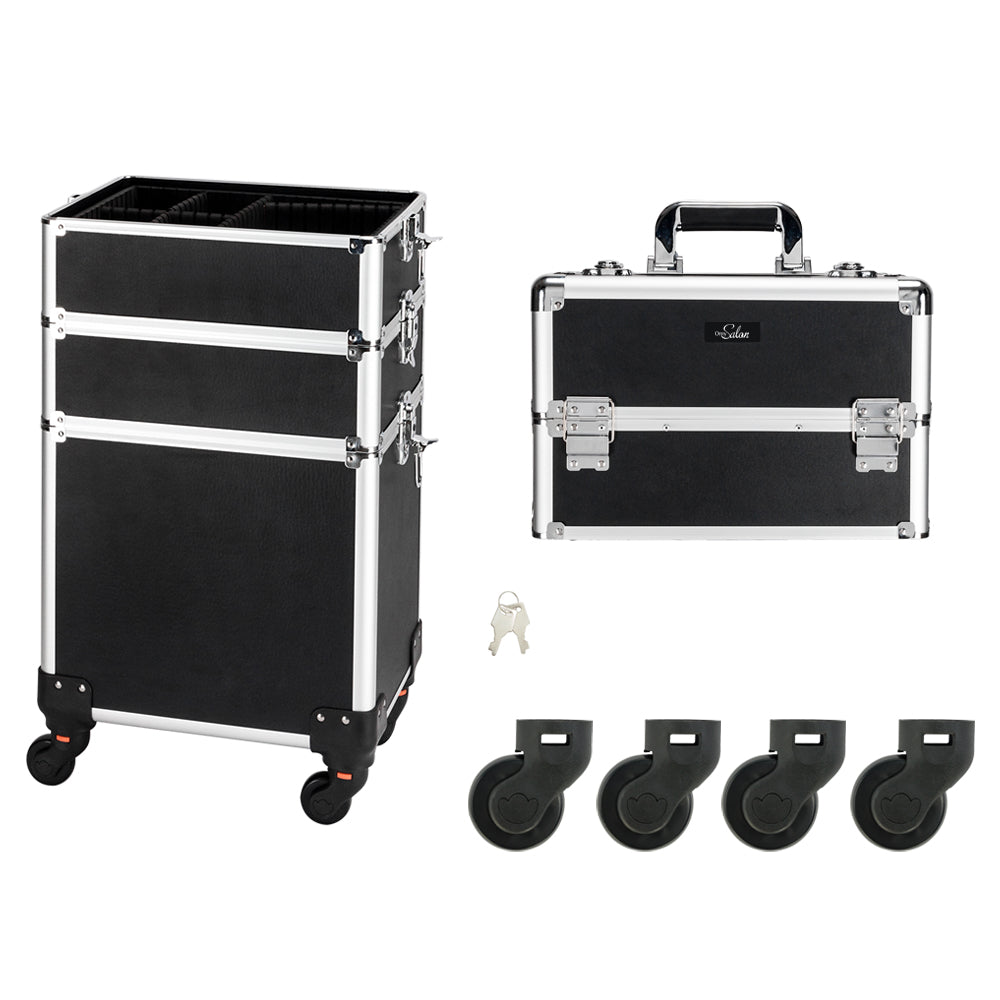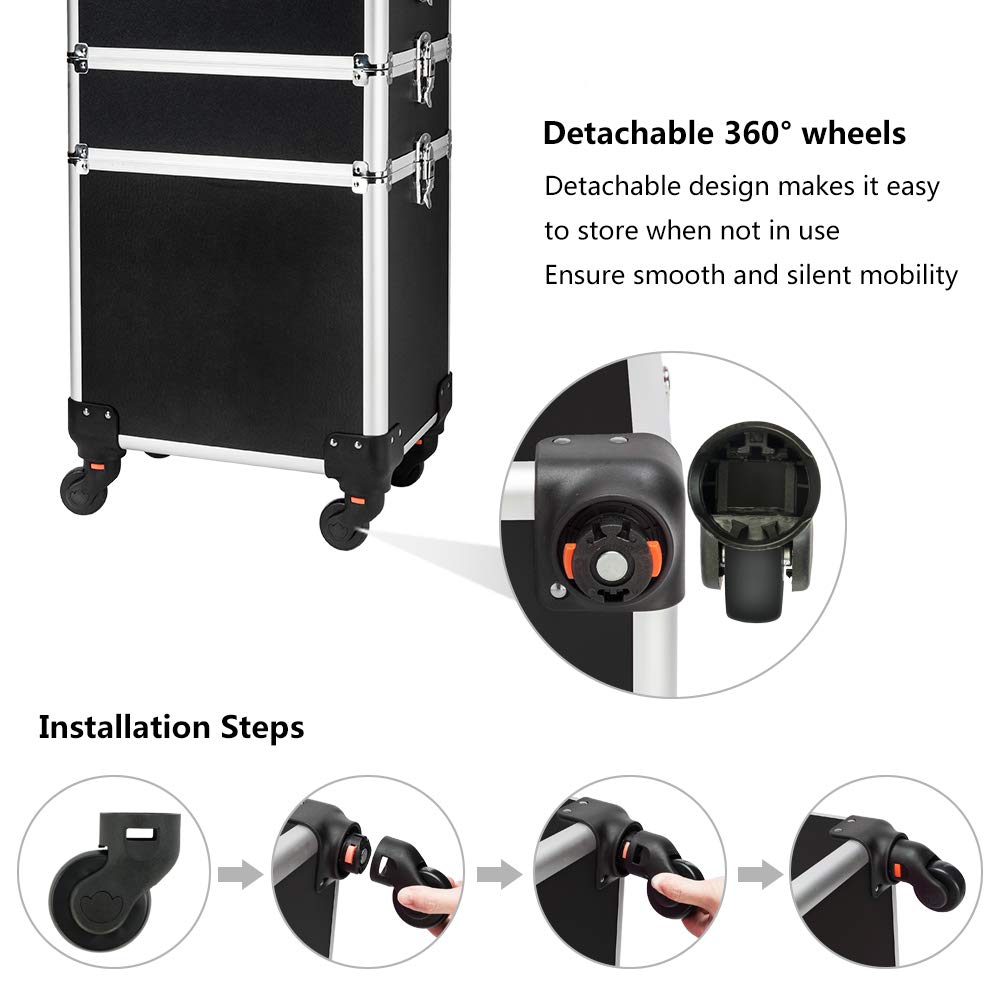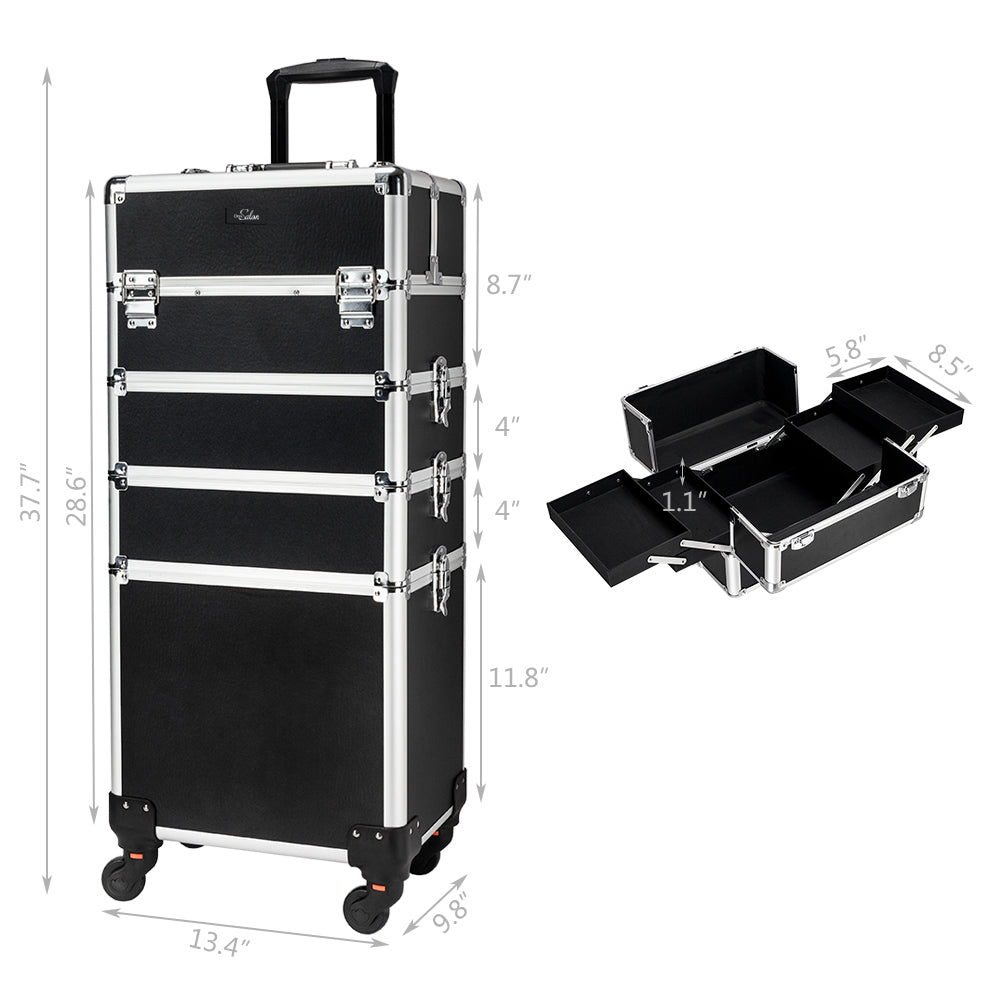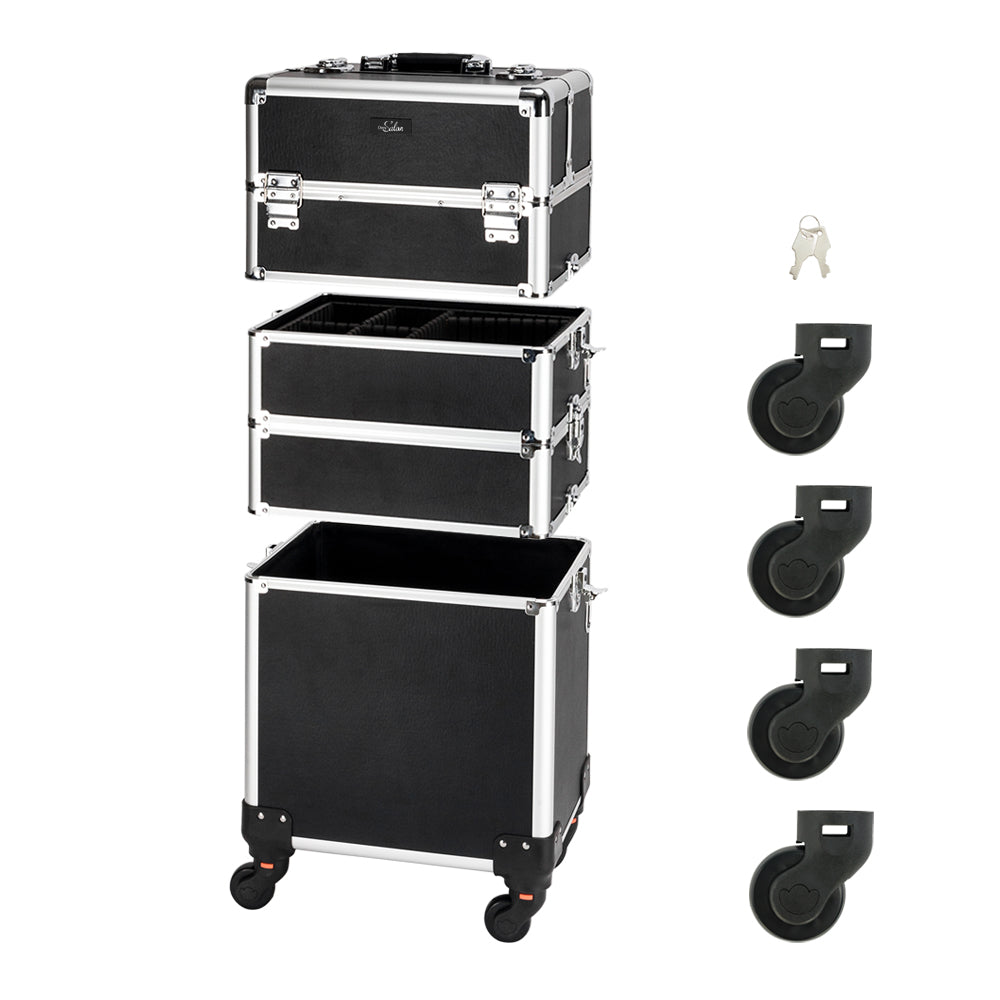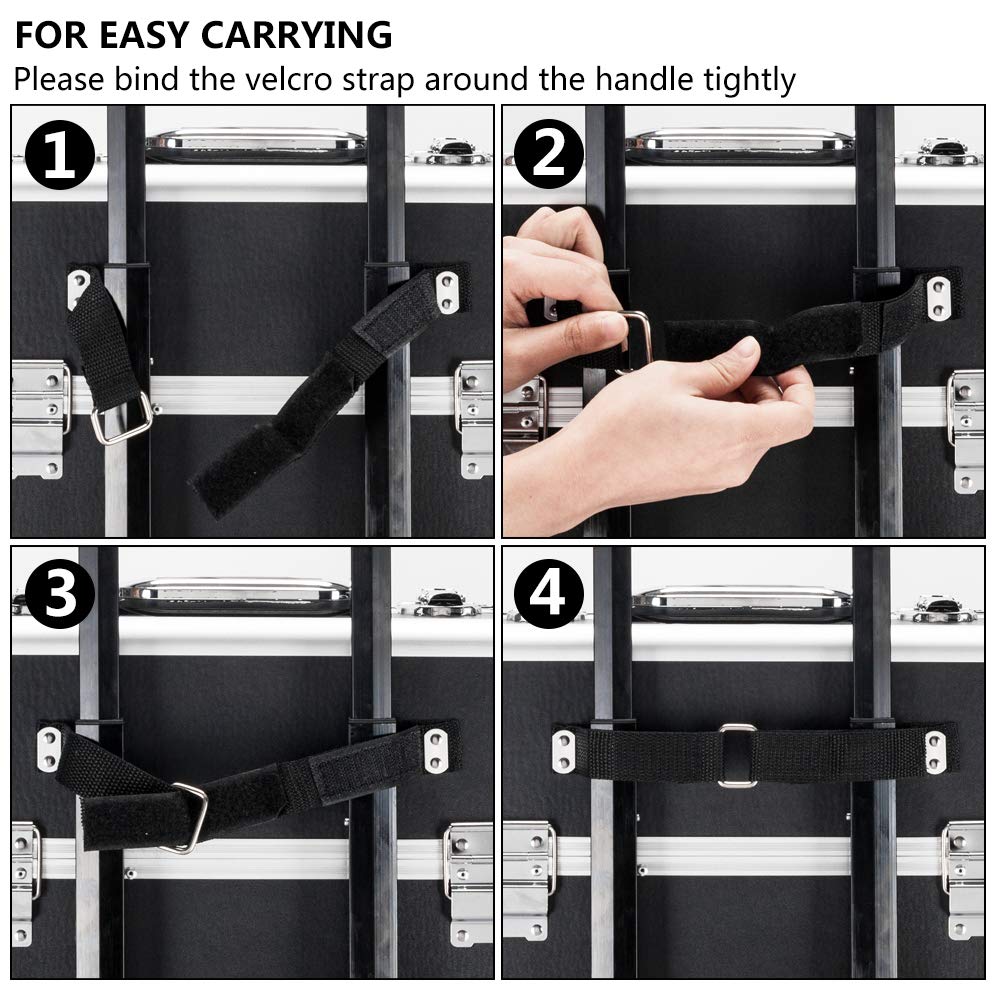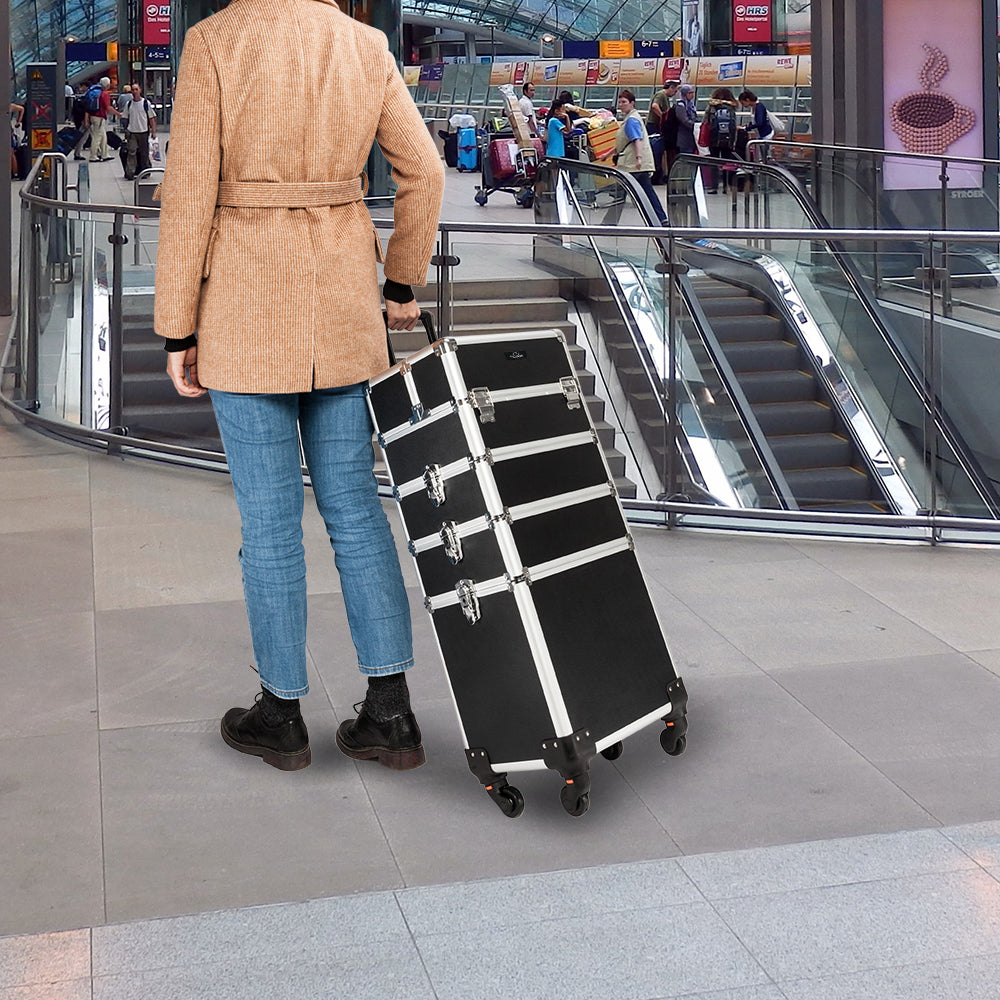 Omysalon Aluminum 4-in-1 Rolling Makeup Train Organizer Lockable Cosmetic Case Pink/Black
Free Shipping - Usually Arrives in 5-7 Business Days
Introduction:
This beautifully designed cosmetic case combines style, elegance, and ease of transportation. It is an ideal choice for beauty professionals, students, hair stylists, and personal use alike. Made from high-quality materials, this cosmetic case is sturdy and durable, ensuring long-lasting performance. It provides ample storage space for makeup tools and cosmetics such as makeup sponges, powder puffs, brushes, and more.
Features:
1.【4 in 1 Design】
- It features a stylish and lockable design with an upper top case and a spacious bottom case. It includes eight lockable keys to ensure the privacy and security of your belongings.
2.【Multi-Functional】
- It offers four optional styles and can be used as a complete trolley or disassembled into smaller train cases to suit your needs.
3.【Ample Storage Space】
- With dimensions of 13.4"L x 9.8"W x 29"H (40"H with handle), it provides ample storage for all your beauty and cosmetic items, including nail polishes, brushes, and eye shadows.
4.【Advanced Design】
- Equipped with four durable and removable wheels that rotate 360 degrees, this trolley can be easily installed, removed, or replaced. Please ensure that the handle ribbon is tightly secured around the handle when traveling.
5.【HIGH QUALITY】
- It features a reinforced aluminum frame, sturdy steel corners, and an ABS surface for durability and longevity.
6.【Wide Range of Use】
- This versatile trolley is suitable for makeup artists, hair stylists, nail salons, and beauty centers, making it a great gift option.

Storage All Your Items in 1 Makeup Case
· Collapsible Trays--Foldable design, all kinds of small beauty products can be well organized;
· DIY Compartment--You can adjust the position of the dividers according to your needs, reasonable layout;
· Large Capacity Bottom Compartment--Suitable for placing large beauty tools, such as hair dryer/hair clip/manicure machine.
4 Detachable 360° Wheels
· You can install the wheels when you go out for easy carrying, detach the wheel when the makeup case is not used for easy storage.
· It must be mentioned that we upgraded the wheels and the mounting position,so the wheels do not scrape on the ground if you try to lean it.
What You Get:
1 x Makeup Train Case
Color: Black/Pink

Overall makup case Trolley size:(13.4 x 9.8 x 29)" / (34 x 25 x 73)cm (L x W x H)

Overall Makeup Case with Handle and wheel size: (13.4 x 9.8 x 40)" / (34 x 25 x 102)cm (L x W x H)

Top Section: (13.4 x 9.8 x 8.9)" / (34 x 25 x 22.5)cm (L x W x H)

Second Section: (13.4 x 9.8 x 3.9)" / (34 x 25 x 10)cm (L x W x H)

Third Section: (13.4 x 9.8 x 3.9)" / (34 x 25 x 10)cm (L x W x H)

Bottom Section: (13.4 x 9.8 x 11.8)" / (34 x 25 x 30)cm (L x W x H)
it's pretty tall. I use it for my nails and ...
it's pretty tall. I use it for my nails and my make up. And I still have one empty section
was hesitant cause of the reviews...
I had been browsing around and I had my eyes set on this specific case...I took a chance and decided to order at my own risk and hope for the best.
delivery was fast and my case wasn¡¯t damaged! I did a close inspection of it and everything on the inside of the compartments; I was extremely happy. I just received it today, I¡¯m packing all my school supplies now, I¡¯m hoping to update this review later on after carrying it back and forth to school for a few days or so.
If your a hairstylist you can use it too
I am a wedding hair stylist! I do not do makeup at all, and have been looking for a traveling kit for months I saw this and loved it. But I was afraid it was more for makeup but I decided to buy it anyways! I did tons research on this product and read every review looked up YouTube videos I was still scared but when it got here I was instantly obsessed!! There were no scratches and everything was perfect. I honestly lobe it so much, so if your a hairstylist and travel like I do just please do yourself a favor and buy it!! Also a note I was not looking forward to the top part on how it opens (great for makeup artist) but didn¡¯t thin I would like that, but it¡¯s honestly super useful and I keep it open and put all my products on the bottom of the first opening that way everything is right next to me and I don¡¯t have to keep reaching over the bride and bridal party which sucks when you don¡¯t have a lot of time. I love it so much, and it¡¯s great for the price! I will definitely buy another if I need to replace it which I don¡¯t think I will for a very long time!!!
It arrived on time, it is a spectacular purchase, highly recommended
It is an excellent investment, I am a manicure student, I give
I would recommend!
Beautiful product!
FYI- It comes with dividers for the small levels, which I like, but I wish there were more of them to do different ways..
The bottom isn't quite tall enough to stand a curling iron up, which is a downfall, if you're packing other things in there.